Disclosure: Some links on this page may be affiliate links which means that, if you choose to make a purchase, we may earn a small commission at no extra cost to you. We greatly appreciate your support!
From the time the social media giant Facebook acquired the hugely popular messaging app WhatsApp in February of 2014, it has exploded exponentially into one of the most downloaded and used apps in the world. This also brings huge opportunities for earning and in this article I present to you the various ways in which you can make money with WhatsApp.
WhatsApp boasts of an enormous user base of around 2.7 billion people! Because of this, what started as a simple messaging platform has now turned into a lucrative place for people to be able to earn money, usually without any initial investments.
How is that possible you wonder? Let's take a look.
Preparing Your WhatsApp Account
The first thing you will need to do to start making some money from WhatsApp is to install the app itself. Head over to the Android Play Store or the Apple App Store and install the app.
Next, create an account using your mobile number. Once that's done, you can now send messages, media files, documents, and many other things to the contacts saved on your phone using the app.
One of the most important things before attempting to start making money with WhatsApp is, like any other form of Internet Marketing, you need to have a good reach and a comprehensive database of contacts you can advertise to.
But what if you don't have a long list of contacts in your phone? Well, that is where one of the most amazing features of WhatsApp comes into play – WhatsApp Groups!
Joining WhatsApp Groups
This is where a lot of people with similar interests can come together and discuss or chat about common interests and topics. And this is where the goldmine of making content viral (and you some money) lies.
You can find various groups within several topics by a simple Google search or by joining some of the millions of Facebook groups that list out numerous WhatsApp groups by niches and topics.
You can simply search for your "Keyword + WhatsApp Groups" in Google and this should bring you lists of more groups than you can possibly handle.
For example – Football Whatsapp Groups
Join a bunch of these groups using the link given on those websites and you should have a decent enough targetted audience to advertise to.
Creating Broadcast Lists
WhatsApp Broadcast Lists is yet another way of reaching lots of people through the app. Even though the purpose of Broadcast Lists seems to be quite similar to a Group, there's a key difference between the two.
WhatsApp Groups are a two-way messaging system where everyone in the group can view and respond to messages sent to that group.
On the other hand, once you create a Broadcast List on your WhatsApp, it's more like a one-way messaging system where you send a common message to everyone on that broadcast list and the recipients will not be able to view the members of the list or the responses they send. The messages will appear to be like a normal WhatsApp chat.
To create a WhatsApp Broadcast List on Android, follow these steps –
Go to WhatsApp > More Options (3 dots on the top-right).
Click on New Broadcast.
Select the contacts you want to add to the new list.
Tap the checkmark.
To create a WhatsApp Broadcast list on iOS, follow the steps below –
Go to WhatsApp > Broadcast Lists (top of the Chats screen)
Tap New List on the bottom of the Broadcast Lists screen.
Search and select all the contacts you want to add to the new list.
Tap Create.
Now that your WhatsApp account is ready, let's move on to the next step.
Here's a look at all the different ways to earn money using WhatsApp.
1. Short Links
Short links top our list of WhatsApp money-making methods for the simple fact that its one of the easiest ways to make passive income through the app.
URL Shortening services are used to, as the name suggests, shorten long links on the internet and present them in a short and more presentable form.
These services usually work on the CPC (cost-per-click) model. Once someone opens the shortened link, they are taken to a gateway page where an ad is shown to them for a certain duration before they can skip the ad to access the actual link.
Every time someone views one of these ads, you will earn a commission. The more people that click through your link and the more traffic you generate, the more your earnings will be.
Most of these Link Shortening services also provide detailed analytics so you can keep a track of how well (or how badly) your generated short links are performing.
The big question that arises here is, how do you generate traffic to your shortened links, making you a decent income in return. The answer is any content that is viral-worthy or is of value to the person receiving the link. For example health remedies, viral breaking news, how-to articles, and videos, etc. So consider content that users would want to forward to their contacts and groups creating a viral effect.
Let's take a look at some of the best URL Shortener services that pay –
Shorte.st is one of the oldest and best-paying URL Shortener services out there. You can use it to shorten all kinds of links including news, videos, games, etc.
Once you land on their homepage, click on Join and then complete the steps to register your free account.
After registration, once you start promoting your shortened links on Shorte.st, the payouts are done on the 10th of every month via Paypal, Payoneer, or WebMoney.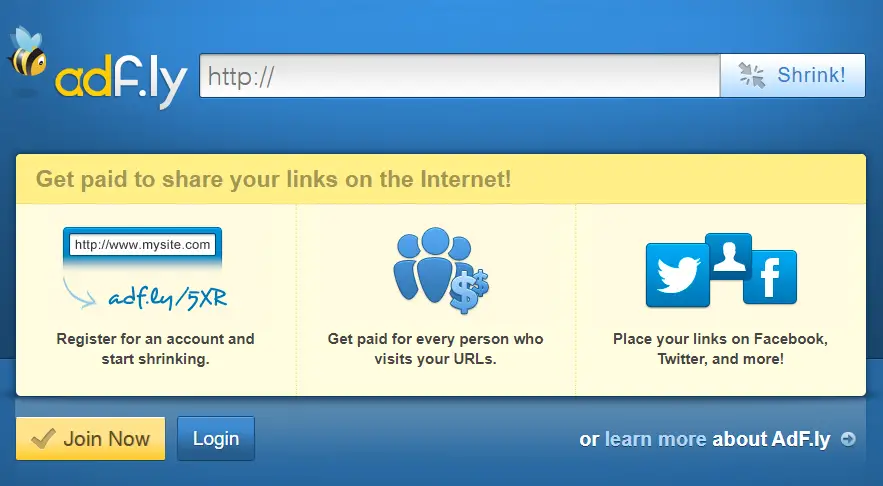 Adf.ly continues to enjoy being one of the most popular Link Shortener services in the world. Millions of users use this service to shorten links and earn a decent passive income from their content.
It is super easy to create an account and just like all the other link shortening services, this one gives you all the data and analytics on a simple dashboard.
Once you reach the minimum earnings threshold, payments are made on the 1st of every month via Paypal & Payoneer.
Some of the other popular Link Shorteners include ouo.io, short.am, linkbucks.com amongst many others. You can use any of these websites to start making money by sharing your shortened links on WhatsApp by sharing them to your groups and broadcast lists.
2. Affiliate Marketing
Affiliate Marketing has always been one of the most lucrative ways of making good money online. This is a system where you get paid for promoting and selling someone else's products or services.
For example, I run a shoe company. You come to my website and sign up as an affiliate. A unique link is generated for your account which you will use to promote my products.
Now, once anyone buys my shoes using your link, I will pay you a commission for each sale that you make. Simple enough?
A lot of big marketplaces and online stores usually have an affiliate program (sometimes also referred to as partner or referral programs). The best part is that most of the affiliate programs for these companies are free to join.
Being part of highly targeted WhatsApp group niches and having niche-related broadcast lists and contacts allows you to promote these affiliate links for good profits on WhatsApp.
Now let's take a look at some of the most popular affiliate networks.
I'm sure by now, we are all aware of how massive and highly trusted Amazon as a company has evolved into. And it also happens to have one of the most widely used affiliate programs in the world.
You can buy pretty much anything that you can think of (and more) on this website and it's hugely trusted by everyone which results in high sales and conversions.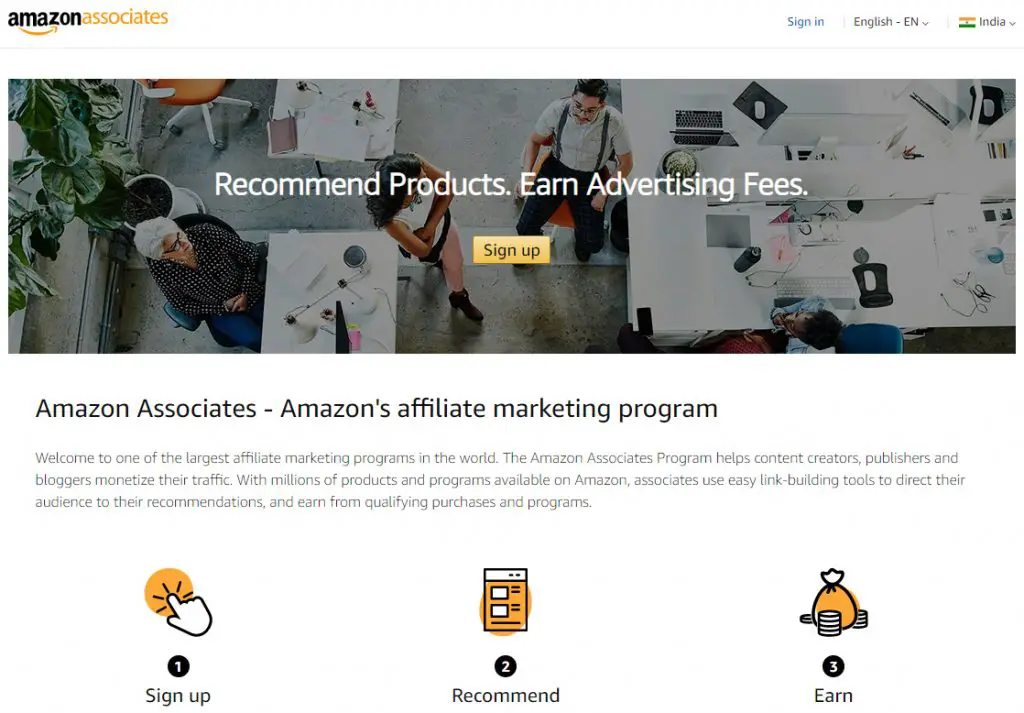 You can join the Amazon Associates Program (their version of affiliate programs) and generate your own links for pretty much any of the millions of products being sold on it every day, share them with targetted WhatsApp groups and contacts, and generate good revenue.
Arguably one of the biggest affiliate networks in the world, ClickBank provides products and services across several different categories that you can promote.
Once you register an account and log in, you can find a product that suits your interest and generate a link for it. Different products will have different commission rates so be sure to check that before selecting one.
Same way as above, you can now promote this link to the various WhatsApp groups and broadcast lists to earn commissions on each sale.
Other Affiliate Programs
Apart from these two, there are thousands of companies that offer affiliate programs to help sell their products and services.
A simple Google search will help you find whether the product you want to promote can be sold for a commission by searching "[Keyword] + Affiliate/Partner/Referral Program".
Chances are, if there is a product or service that you're interested in promoting, you can probably be doing it for an affiliate commission.
3. App Referrals
There are dozens of apps out in the market that will pay you to refer other people to their apps. This is a way for them to gain more users by rewarding you to get your friends to sign up.
Most of these apps won't pay you direct cash and instead will pay you in the form of cashbacks, gift cards, Paytm cash, in-app currency, etc.
How this system usually works is first you sign up to a particular app. Then go to the referral (or Refer-a-Friend) section which will have a unique code or link which you can send to your friends who can then use your referral code or link to sign up to that app.
Some apps pay you a referral bonus on every signup through your link whereas some of them only pay you once a referred user makes a payment of a minimum amount on the app.
This way the company gets a new user and pays you a small commission for it.
There are literally thousands of new apps being launched every week and a lot of them provide opportunities for you to refer and earn. Some of the top refer-and-earn apps are –
a) Mobile Wallet And Recharge Apps Like Google Pay
Since its launch, Google Pay (formerly known as Google Tez) has turned into one of India's favorite mobile wallets offering a host of services like mobile recharges, bill payments, money transfers, etc.
It also provides a way for you to refer your friends and earn up to ₹51 for every person that makes their first payment who signed up using your link. And as a bonus, they get ₹21 as well!
Similarly, other mobile wallet apps like Paytm, Freecharge, and others offer similar refer-and-earn opportunities.
b) Cab Apps Like Uber and Ola
The largest cab aggregator in the world – Uber also provides a solid referral system.
Whenever someone signs up to the Uber app using your referral code, you get ₹25 off your next Uber ride. And your friend also gets ₹25 off their first ride.
The biggest competitor to Uber in India, Ola has a similar refer and earn system where you and your friend both get ₹50 when someone signs up using your referral code.
c) Travel & Ticket Booking Apps Like Goibibo and MakeMyTrip
There are loads of apps that you can use to book travel and hotel tickets in India. And most of the major players in this space also offer refer-and-earn opportunities.
Two of the biggest companies in this space are Goibibo and MakeMyTrip.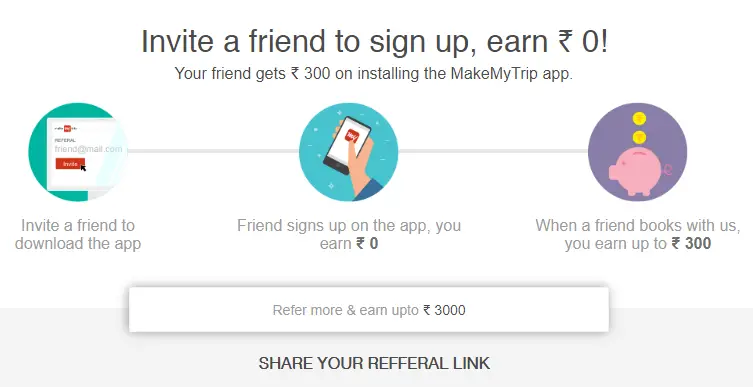 MakeMyTrip has an amazing referral program where they will pay you ₹300 once anyone who signed up using your referral link makes a booking.
Similarly, Goibibo has an in-app currency called goCash+ and on referring a friend to sign up to the app, it will give you ₹10 goCash+ on every successful signup and another ₹10 goCash+ once your referred contact makes a transaction on any booking above ₹500.
Apart from these, there are hundreds and thousands of apps across various categories that will pay you a decent amount of money or in-app currency to help them acquire new customers.
All that you've got to do is promote your unique referral links and codes for those apps to your WhatsApp groups and contacts and try to get as many signups as possible.
4. Pay Per Download (PPD)
As the name suggests, Pay Per Download or PPD networks pay you for every download of a file that you've uploaded on their site. These can be any type of files including documents, videos, audio, software, etc.
The way PPD sites work is this – Firstly you will have to go and sign up to one of these PPD websites. Then you upload a file there and share the download link to that file on your various WhatsApp groups and broadcast lists.
Now every time someone downloads this file you will be paid a certain amount (generally per 1000 downloads). How they do this is by showing an ad or asking users to complete a survey before they give the download link to the file.
Most of these sites pay depending on the countries you generate the download traffic from. For example, downloads from Tier 1 countries like the US, UK, and Canada pay more money per 1000 downloads than Tier 3 countries like Asian countries.

To get more success with these kinds of PPD sites, promote your download links to targeted WhatsApp groups and contacts. Like if you are a part of a lot of meme groups, upload a funny video to one of these sites and share that download link to those meme-related groups.
Some of the most famous PPD sites are –
5. Drive Traffic to Your Monetized Content (Blog, Youtube, etc.)
Are you a content creator with an online asset like a blog or a Youtube channel? (or maybe both?)
In such a case, WhatsApp can prove to be a decent and legit source of traffic to your blog posts or videos which results in you making more money.
In current times, having a monetized blog or a Youtube channel, are some of the best ways of making passive income online that I have come across. But you need to drive traffic to them for you to be able to make money from them and that's where WhatsApp comes in.
Make sure that you have a good reach on WhatsApp by joining the relevant groups. Now once you've created a new piece of content, you can share your newly published blog post or Youtube video in these groups.
Make sure that the content you're sharing is relevant and informative to your audience. And if it is, there are high chances of that link getting a lot of shares and engagement and in turn, making it viral.
Do make sure that the content (blog posts or videos) is monetized with ads or affiliate links to be able to make money from the traffic you drive via WhatsApp.
Creating content on current trending topics has a huge potential of going viral. For example, if you created a blog post or video about "Tips to Boost Immunity" during the Coronavirus pandemic, people would love to share such information with their friends and family.
This can result in a lot of people forwarding it to their contacts and groups and thus, creating a huge viral effect.
Make Money By Sending WhatsApp Traffic to Other People's Content
In extension to this method, if in case you don't happen to have your own Blog or Youtube videos, you can always promote other people's monetized content and charge them for it.
You can contact new content creators who might have just started their new blog or Youtube channels and tell them that you can bring a decent amount of traffic to their content. A lot of them will be more than happy to avail of your services for a set fee to get their new venture off the ground.
Try to research about and target new bloggers and video creators. They are usually in need of good targetted traffic which you can provide by promoting their content on your WhatsApp groups and contacts.
6. Market Your Own Products or Services
Another great way of making money from WhatsApp is by promoting your own products or services.
Whether you own a real physical business selling goods or maybe you have a strong professional skill (like web designing, copywriting, photography, etc.), you can use WhatsApp to sell it.
If you don't have a product, you can start an online dropshipping business. In dropshipping, you create an online shop and find a supplier. When people visit your website and purchase a product from your store, you simply forward the order details to your supplier who fulfills the delivery with your brand name.
This way you don't need to maintain an inventory of the physical goods that you're selling.
Similarly, if you have any special skills that you can sell as a freelancer, WhatsApp can be a great medium to spread the word of mouth and bring you new clients.
Whatever may be your skill, you can join WhatsApp groups and make lists related to that and find prospective clients who might be in need of your services.
Another great way of selling your products or services through WhatsApp could be by using their own app developed specifically for businesses called WhatsApp Business.
WhatsApp Business App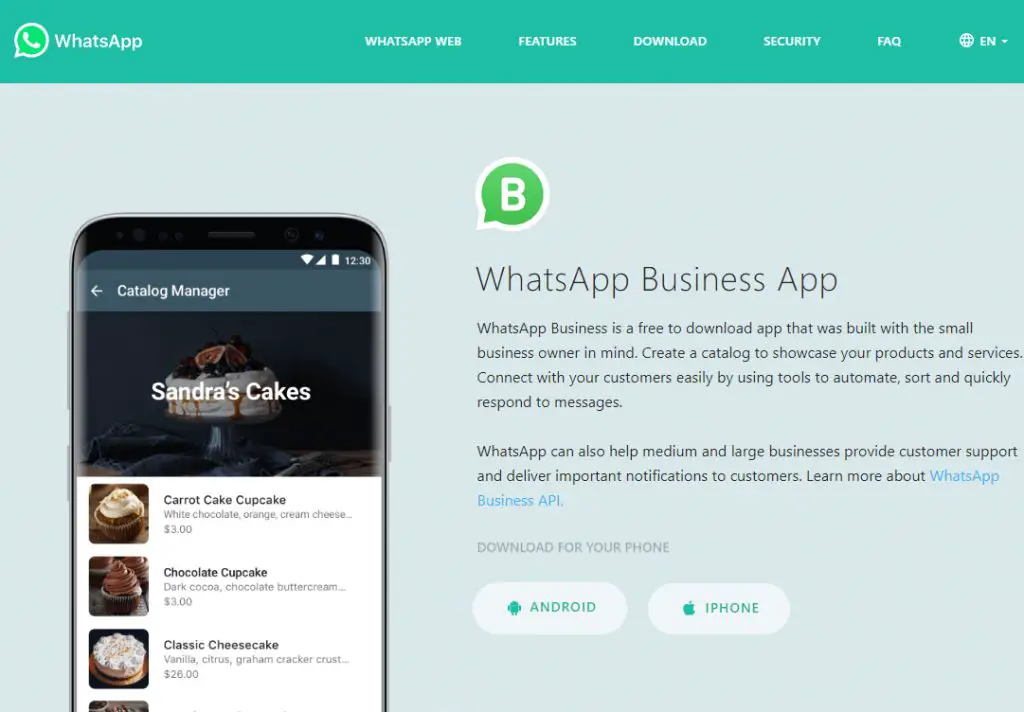 The official WhatsApp Business app provides businesses a way to interact and connect with their customers in a more professional and structured way. It integrates amazing features keeping business owners in mind like creating product/service catalogs, instant replies, labeling contacts, etc.
To get started with WhatsApp Business, download it from the Play Store or the App Store. Once installed, you can set up your profile with all your business details, contact info, automated replies, etc.
If you own a website for your business, WhatsApp also provides the WhatsApp Business API to integrate the app's features into your website seamlessly. This provides customers visiting your website an easy way to get in touch with you.
7. Provide Live Customer Support
With so many businesses going online, providing top-notch customer support has become increasingly important for them. A lot of these businesses maintain databases of their customers on WhatsApp and hence, WhatsApp provides a great way for them to interact directly with their customers.
This is where you can come in and offer to provide live customer support via WhatsApp as a service to these businesses. WhatsApp provides various tools like live video calls, audio notes, document sharing, etc. which can help you to make these services available in a professional manner.
For example, if you're good with web development and someone needs you to help them troubleshoot a problem they've been stuck with that you can solve. You can offer to provide your assistance to them via WhatsApp for a fee.
Or if a company sells a certain type of goods and their customers have complaints that need to be addressed. You can tie-up with the company to provide live customer service to the customers on their behalf via audio/video calls and solve their problems.
Again, you will need to have the right contacts on WhatsApp or be a part of groups related to your skills where you can sell your customer support services.
8. Charge for Group Admissions on WhatsApp
Have you ever paid for being a part of a certain group where you can access exclusive content or information?
Well, WhatsApp Groups provides an excellent way for you to have a closed private group where you can share exclusive things like paid courses, exclusive tools, private information, etc. for a subscription.
Only people who subscribe to the group can be given access and a subscription can be charged on a monthly or yearly basis.
For example, you can do live sessions giving personal 1-on-1 mentorship to your WhatsApp group members and only those who are a part of the group will be able to access it.
For this to work, you have to provide the members of the group with some value that they will be willing to pay for. You can create your own courses, ebooks, webinars, etc. or you can share other exclusive content that you personally curate like paid apps, games, ebooks, etc.
9. Advertise On WhatsApp Status
WhatsApp Status (not to be confused with the About Section of WhatsApp) can serve as a really good advertisement medium. It is the WhatsApp equivalent of Facebook/Instagram Stories or Snapchats. It basically is short snackable bits of content that can be consumed in a more quick format.
This type of content has proven to be really popular in recent times as more and more social media sites bring some or the other form of this format to their platforms.
If you have a big enough audience in the form of contacts, you can easily promote your affiliate links or sell advertising to others within your WhatsApp Status.
Make sure not to spam your contact list with only advertisements in your status. Always share a lot of valuable content in your specific niche and only promote or advertise things once in a while, related to your contact list.
For example, if most of the people on your WhatsApp contacts are into cricket, it'll be of very little use to promote kitchen-related products to them. Get the idea?
There are dedicated sites like Status Stories that curate a list of WhatsApp accounts that people can subscribe to for regular content that they are interested in. Some of these accounts have hundreds of thousands of people subscribed to consume content on their WhatsApp Statuses.
Delivering targetted content on a consistent basis is key to having a highly followed and engaged WhatsApp Status account.
Conclusion
Making money on WhatsApp can be simple but not easy, you will have to put in the work!
It has become an integral part of our phones and if used correctly, can be a really good source of generating passive income.
Some of the methods listed above may take more effort than others but like any other money-making method, you need to be patient and work hard towards your income goals.
The key to all these methods lies in building up a big audience on WhatsApp by joining relevant groups and adding the right contacts.
I wish you the best in your money-making journey on WhatsApp!
I'd love to hear if any of these methods made you money? Or if I missed out on any other money-making methods on WhatsApp. Let me know in the comments below!