Do you use the Google search engine? If your answer is yes, then you could be making some money and get paid for searching the web.
If you are someone who lists surfing the web as your special skill then I have great news for you. You can now enjoy your favorite activity, and in the process, make yourself some money.
The best part is that there is no catch involved in this. If you are interested in getting paid to search the web then this article is going to be a very useful read.
You can indeed earn by just searching on Google or other search engines about things that interest you. If you have time on your hands and a desire to earn some easy side income, you can do so by just browsing the internet. And let me tell you, you don't have to invest any money to make this happen.
How to Get Paid for Searching the Web?
There are different types of websites that you can register with to get paid to search online. The top 3 on our list are –
Data Collection Apps
These are typically apps that run in the background and gather information from your browsing habits. There are plenty of companies that are willing to pay good money to find out what their customers want and their browsing habits.
All you have to do is register onto these data-collecting apps with your email ID and get paid as you browse the internet. I highly recommend this option if you want to earn some extra money effortlessly.
Search Engine Evaluator
All prominent search engines, including Google, Yahoo, and Bing, are willing to pay you to evaluate their performance by rating their search results. Get on board with these search engines and get paid for the valuable feedback/rating you provide them. Your inputs are valuable to these companies as they can improve their algorithms based on the data provided by these evaluators.
Change Your Search Engine
You must have come across several pop-ups that suggest you make a certain search engine your default option. If you are willing to leave Google aside and replace it with another search engine for your daily browsing needs, then it may help you earn some money. There are companies that will pay you to make them your default search engine.
13 Easy Ways to Get Paid for Searching the Web
You can search and earn money easily by getting onboard with one of the following companies. There are no prerequisite skills that you will have to acquire to make money searching the web. Here are the sites that you can apply to –
1. Wonder
Wonder is top on our list as it is one of the best companies that will pay you good money for browsing and researching. You could be a corporate professional or a stay-at-home mom, if you have decent research skills (which most individuals do in today's digital age), Wonder is definitely a great option to consider.
The best part about this website is that it does not ask for any kind of formal educational qualifications when you apply. The only thing Wonder looks at is if your research and communication (English) skills are good.
Once you are on board, you will be one of Wonder's research assistants, who can earn a flat fee for every response that is insightful. You can earn up to $20 based on the quality of the response you provide.
2. Swagbucks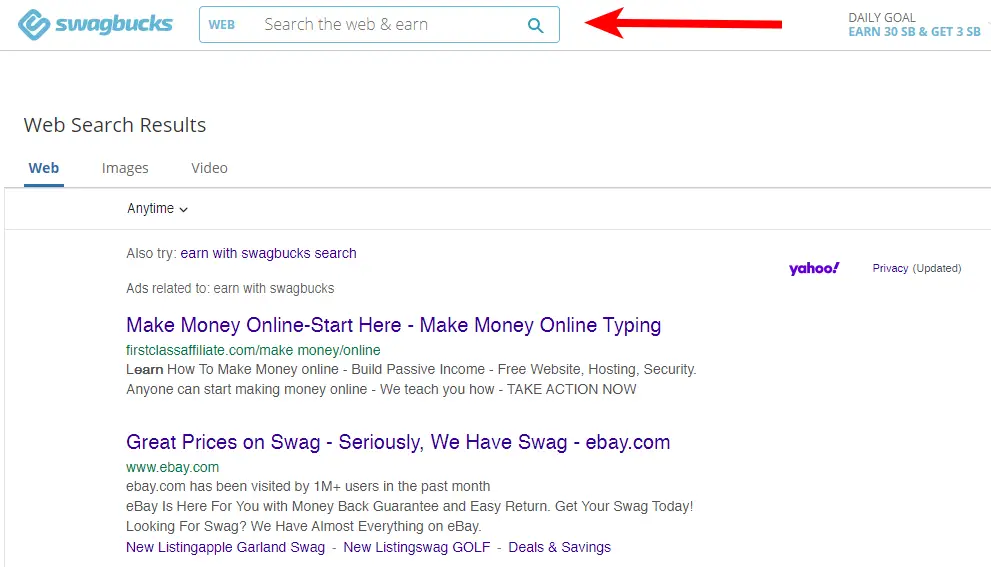 Swagbucks offers points for searching for any information you may need from its search bar. This site uses the Yahoo search engine, and by using this feature, you can accumulate points that you can later redeem.
However, this is not the only way you can earn from Swagbucks. You also have the option to watch ads, answer surveys, download apps, and many other ways to make money from this platform. The many benefits that this site offers include attractive cashbacks and gift cards that are hard to resist.
The best part about using Swagbucks to make money searching is that you don't have to use any kind of intellectual effort. If you waste a lot of time commuting or in queues, I recommend that you use this search-and-earn site to utilize your time productively.
3. Qmee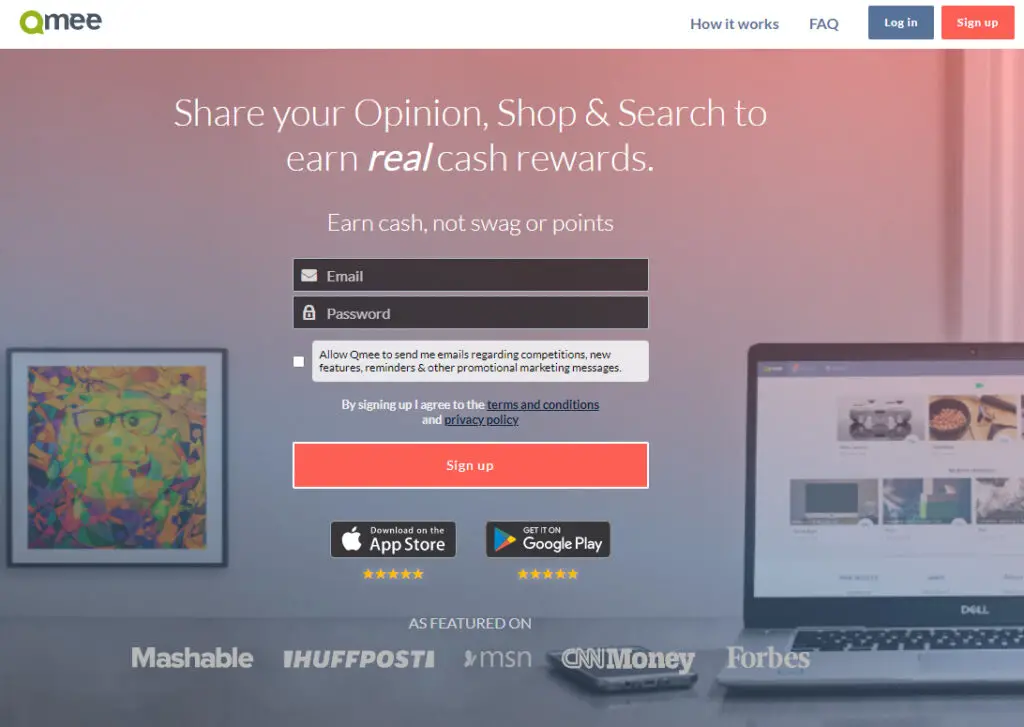 Qmee is a browser extension that gets you paid for using your computer or laptop. This is only slightly different from the other options listed above. All you have to do in this case is, download the browser extension and start surfing the internet as usual.
It is also a better option if you don't want to change your default search engine. It will pay you to use any top search engine like Google, Yahoo, DuckDuckGo, or Bing.
You are shown a few sponsored results alongside the regular search results and you get paid in points to click on any of these.
You may also see a suggested ad or video pop up on your sidebar, and clicking/viewing them will get you paid. The number of searches that you run on a daily basis determines how much you will get paid.
4. InboxDollars
InboxDollars is another great search engine that pays you in many different ways for searching and browsing the web.
You can use their search bar on top of the site. Every time you do a search, the progress bar fills up a little. Once the progress bar is full, you will be given a scratch card that can pay you anywhere from around $0.25 to $100.
The best way to do this is by setting the InboxDollars search as your default search engine or setting it as your homepage. You can also collect points by using their search on your mobile phone.
Some of the other ways of making money on InboxDollars include taking surveys, online shopping, referring friends, playing online games, or just surfing the web.
You will receive a $5 bonus upon sign-up, and subsequently, you will also earn in the form of gift cards and cash. I found gift cards to be the most convenient form of pay-outs that you can use to purchase electronics such as televisions, phones, etc. at good discounts.
5. MobileXpression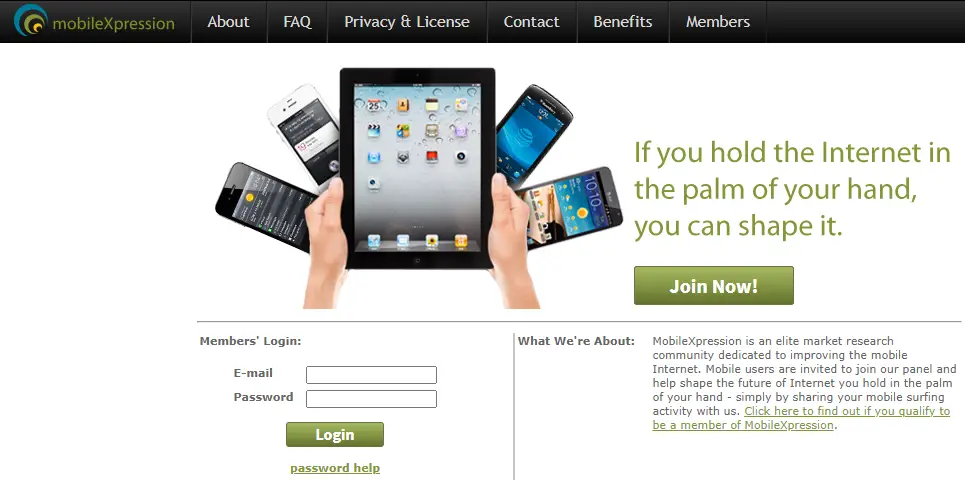 This is yet another passive earning option that helps you get paid to search the internet. All you have to do is download the MobileXpression app onto your device (phone or tab).
When you browse the internet using a device with this app installed, your browsing details that are collected are analyzed to derive insights that can help brands. It basically analyzes how people use their mobile internet. Your details are kept anonymous, thereby protecting your identity.
You must, however, ensure that your device is compatible with the MobileXpression app. You must also answer a series of questions to check if you qualify for their earning program. Once you download and continue to keep the app installed, you will earn attractive gift cards from popular retailers.
6. Smart App
This is another option that you can use to make money by doing almost nothing. Smart App offers you a bonus to just download and sign-up on its app. Every month, you will continue to get a bonus of $5 for just keeping the app installed on your device.
I find GPT sites like these more apt if you just want to install the app and do nothing more. These are perfect for anybody who wishes to earn some money on the side.
Verto Analytics powers the app that runs in the background while you use your phone. The app will record your internet browsing data, which in turn helps brands understand what their target audience wants.
7. ZoomBucks
ZoomBucks lets you earn extra money by completing different tasks including searching the web. The number and frequency of searches that you run every day determine the amount of money that you will make.
This site is similar to Swagbucks and you get paid in the form of ZoomBucks (ZBs). These ZBs can then be used to redeem rewards or cash out once you reach the minimum payout amount of $3. Their payouts are fast and hassle-free, so you don't have to wait too long to redeem your Zoombucks.
The site also gives you an option to earn additional income by answering surveys, watching videos/ads, and completing various other tasks.
8. iRazoo
iRazoo pays its users to search using its Yahoo-powered search engine. You can do a search using the search bar on their own website or by changing your default search engine to iRazoo.
iRazoo supports all the popular web browsers. They also offer rewards for doing other activities like watching videos, downloading apps, taking surveys, etc.
You can redeem your points here in the form of gift cards or Paypal money.
Is iRazoo legit?
Yes, iRazoo is a completely legitimate website. Lots of users are getting paid by using this platform and it is also completely free to join. They do not promote any scam products, services, or surveys.
iRazoo also offers many convenient payment methods like rewards from Amazon and even an option to convert your points into Paypal cash.
9. Microsoft Rewards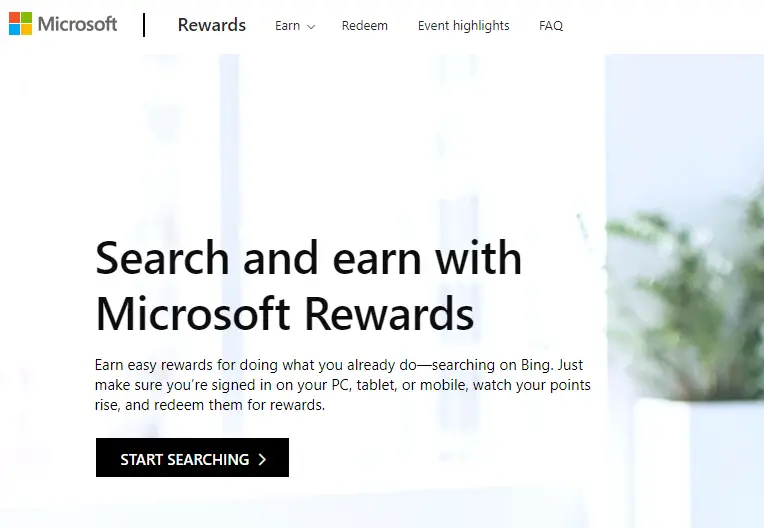 Yes, the mighty Microsoft gives you the opportunity to get paid for searching the internet as well! Microsoft has its own Google rival called the Bing search engine.
Users are given 5 points per search using Bing and these can be done from the desktop, mobile, or even their latest browser – Microsoft Edge. You can also use the Bing app on your mobile to collect points.
Apart from searching, Microsoft Rewards also offers its users other ways to get paid in the form of answering surveys, playing games, completing offers, and other online activities.
Another easy way of making money from Microsoft Rewards is simply by browsing the web using Microsoft Edge. Users are awarded 5 points per hour of browsing. Considering how internet savvy most people are nowadays, it can all add up to a decent amount by the end of the month!
10. Survey Junkie
Survey Junkie is next on our list of options that will help you make money by searching the web. This GPT site allows you to get paid for taking surveys put out by numerous companies.
Taking surveys and giving valuable feedback will help you accumulate points that you can redeem later. You can earn up to 200 points by completing a survey and can redeem your points once you accumulate 1000 points.
You can redeem your earnings by getting the cash deposited directly into your PayPal account, or you can opt for gift cards.
11. FusionCash
FusionCash is another great site that is open only for the residents of the United States. However, it is as effective as any other GPT site that you may come across.
The various options this site provides you to earn extra income include installing mobile apps, taking paid surveys, and watching videos, among others. The site also offers a $5 bonus upon sign-up.
12. Publishers Clearing House (PCH Search & Win)
The way you make money with the Publishers Clearing House search engine is a bit different from the other methods listed here. On this site, winners are selected randomly from the users who use their search engine and rewarded.
This means although you don't make any points or cents per search, you do stand a chance to win large prizes for simply doing searches on this site. Their win engine selects winning times randomly each day and the first person to search at or after that randomly chosen time wins instant rewards.
Prizes include gift cards, electronics, and even cash. You can access the PCH search engine on your desktop, tablet, or mobile.
13. Become a Search Engine Evaluator
Search Engine Evaluators are hired by search engine companies to analyze search results on their platform to improve and maintain quality and relevancy. Their job is to ensure that the search results are accurate and satisfy user intent.
Most of these jobs are work from home and part-time jobs (full-time as well in some cases) where you will be paid an hourly wage. The kind of content that you get to work on depends on your role and experience.
It's an added bonus if you speak more than one language fluently to be able to assess search results in languages other than English. The type of search content that you will work on wouldn't necessarily be text only, it can also be other formats like image or video results.
These jobs will usually require you to have a college degree at the minimum. The advantage of being a search engine evaluator is that you can work flexible hours from home and you get paid to do something you're probably already good at – searching and reviewing search results on the web.
You can find and apply for search engine evaluator jobs at:
How Much Can You Get Paid for Searching the Web?
There are various sites that will pay you just to sign up for simple tasks like searching and browsing the web. The sign-up bonuses are usually around $5.
The amount of points you can collect usually depends on the number of searches you can execute. Once the points reach a value that is equal to or more than the minimum payout amount (usually starting from $5), you can redeem it via the payment option of your choice.
So, on average, you can easily earn between $10-$15 per month. However, if you take up surveys, answer questions or complete other offers, you can get paid up to $35 per survey. There are many companies that are willing to pay for each question that you answer ($5-$8 per question).
You can also sign up with multiple websites listed in this article to maximize your earnings. You can start with one site, and once you get comfortable using that, you can register with more and then rotate between them.
How Does the Payment Get Credited?
Different companies/websites offer pay-outs in different ways. Here are some of the popular pay-out options that you can use once you accumulate the minimum number of points –
Gift cards: You can choose from various gift card options that the website provides. These are usually from popular retailers such as Amazon and Target. Gift cards of popular technology products such as Xbox and Google Play Store are also a pay-out option offered by some of the sites.
Paper check: There are a few companies that offer to pay you by means of a paper check.
PayPal: Some websites choose to release your payment by depositing your earnings directly into your PayPal account.
Direct deposit: Many websites also prefer to make payments via direct deposits to your bank account.
Most companies release payments once you successfully accumulate a certain number of points. The payment frequency of their pay-outs (mostly fortnightly or monthly) is usually mentioned on their websites.
Some companies also provide more than one of the above-listed payment methods. Once you are aware of all the pay-out options available to you, I suggest that you redeem your points as per your convenience.
For example, if you have an option to redeem your points either by availing a gift card or by a direct deposit, you should choose whatever suits you best. If you wish to purchase electronic items, go for the former option, else opt for the latter.
Final Thoughts
There is absolutely no shortage of opportunities that can help you earn easy money in this digital age. The wide range of opportunities that are available to you on various digital platforms is tremendous.
A lot of these opportunities do not even require an educational background or any other special abilities. All they look for is your willingness to participate in their journey of bettering their brand and services.
When you sign-up to these get-paid-to sites, you extend your consent to becoming an anonymous participant in their data collection and analysis research. If a simple consent to record your browsing data can help you get paid – I say why not!
An additional source of income is always welcome, especially when you have to put in minimal effort to earn it. I highly recommend that you go through these search-and-earn sites listed above and find the ones that suit you the best. After that, download the app, browser extension, or toolbar, and try sticking to that method for a while to see results. You really don't have much to lose.
I hope the methods listed above will guide you in the right direction in your quest of making money by searching the web. This is as easy as it's going to get when it comes to earning without any initial investment or a lot of hard effort.
No go ahead and get searching! I wish you the best!
Have you ever heard of any of these websites? Or maybe you've already had success with some of the methods listed above? Let me know in the comments below, I'd love to hear your thoughts.