Do you love gaming? If your answer is yes, you could be making good money from your favorite hobby – playing video games.
Almost everyone out there likes to play games on various devices. But have you heard about people who get paid to play video games?
Nowadays, games are played not just for fun but also as a legitimate career option. In this article, you are going to learn how to make money playing video games.
You can earn some serious cash playing games on the computer at home by turning that fun pastime activity into a real income earner for you! Many professional gamers are making a living by earning up to six-figure or more incomes by just playing games.
I know you must have certainly read in a magazine or on the internet about people making real money playing games on the computer and it is a real legitimate career option in today's age.
Not long ago, gaming was only considered to be a fun hobby for teenagers and youngsters. A few years ago, you couldn't imagine people making cash using this method. Things have now changed!
While it is true that some people are earning lots of cash by playing games, it may not be as easy as it sounds. Playing video games on the computer may be fun but you will have to give it a serious commitment if you want to be able to make money off it.
You will have to be able to distinguish the real opportunities from scams that will let you earn. Yes, there are a lot of scams out there that prey on unsuspecting gamers to defraud them.
How to Make Money Playing Video Games: 12 Exciting Ways
Let's take a look at some ways that you can rely on to help you get paid to play video games:
1. Become a Video Game Reviewer
Do you have a knack for playing varied types of games? If yes, then you can turn that hobby into a great income earner for yourself. You can make money by writing reviews for the various video games that you have played.
The task here is the same as what most bloggers do. They offer information on topics they are conversant with to their audiences.
The idea is to create a blog or a website. Provide an in-depth analysis of the different games that you have played. You can also describe the different features of the games that you've played.
You could also have a YouTube channel where you post videos of reviews of different games. Having a link that directs visitors from your blog to your YouTube channel and vice versa is also a great idea.
This can help to expand your reach to your prospects. Now, you may still be wondering how you can make money from this idea.
Well, the deal is quite simple here. Your blog and YouTube channel will soon become popular with gaming enthusiasts and you will eventually build an audience.
From this, you can sell ad space to advertisers and get paid. You could also earn money as an affiliate from various video game companies. Or you could also do sponsored posts and videos for different companies.
2. Test Video Games for Money
You could also make money testing different games and be paid lots of cash in return. Game developers are usually on the lookout for people they can pay to test their new games.
And here is where you can come in if you are that computer game enthusiast. Developers pay game testers to test their new computer games for a variety of reasons.
One of those reasons is for the testers to help them identify any bugs that may need fixes. Sometimes they also need people who can give them honest reviews of their games. This way, they find it easy to fix areas that need improvements before they release the games to customers.
You'd be happy to know that video game testers make lots of money. As a computer game tester, you will have to do lots of game testing for you to be able to make real money.
Sometimes you have to play against several characters, play the same game levels repeatedly, and that's not easy! Game testing also requires lots of patience.
Testing computer-generated games also involves testing them for user-experience and finding bugs. This is time-consuming and isn't as easy like it sounds.
You must also take notes of the issues you encounter when testing the games. This requires you to be keen and thorough in what you do. Any slight mistakes that you might make may mean that you won't get paid after all the work.
Here are some websites that pay for testing video games –
You may also apply to various gaming studios like Ubisoft, Rockstar Games, etc. to work for them as an in-house game tester where you will be hired on a salary.
3. Compete in Video Game Tournaments
For you to make reasonable money from this, you must have exceptional competitive talent. It may not be a very consistent source of revenue for you for obvious reasons. You may not be the winner all the time; there are those games you will win and those you'll lose.
Of course, if you are highly-talented, you can win at the big video game tournaments. There are exclusive tournaments for games such as PUBG, League of Legends and Call of Duty.
If you can manage to win at such big tournaments, you can take home lots of cash. While competing at tournaments may give you money, it is not that straightforward. You must be consistent in your winnings and also be highly talented to win big.
4. Play Online Games That Pay Money
You can also make money when you simply play video games at home. This may sound like a myth, but there are lots of people out there doing it.
The magic here is simple. There are lots of online computer games/websites that will pay you for playing online games.
Here is a list of some of the online computer games/websites that can pay you to play:
This is a website that lets users earn some money while they play online. You can also take advantage of it and sign up with them free of charge. Once you have your account all set, you can start playing your favorite games online and make money.
There are lots of games available on the website for you to choose from. As you start, you can make anything from $8 per day and then increase as you become a master.
This is a popular website that offers a variety of services. You can also play games on this website and make money. You can start small by playing simple games that don't pay much. When you get the necessary experience, you can begin taking on complex games that pay more.
As you begin playing on this website, it might not look like a money generating venture. When you create an account, you will not be able to find games for the first five days. After five days, you will be able to gather tokens playing games. These tokens will let you play even more games that will let you earn more money.
This is yet another exciting online platform that you can play video games on to make money. There are lots of game offerings available on this platform. Some of them include – puzzles, strategy, arcade, and even word games.
As a first time player on the platform, you get to try out a game before you enter into a competition. Once you get in, you get the chance to compete against other players, and if you win, you get paid. Here, you get paid for doing what you love!
This is an excellent website that offers game enthusiasts an opportunity to make money playing video games. To get started, you need to register an account with Paid Game Player. As a registered member, you will get the chance to access many different games on the website.
The website is only open for users who are 18 years and above who can register and make money from it. There are several games that you can play on the website. Some of them include – arcade games, puzzles, word games, and much more.
if you love to play games and are good at it, then you can turn that hobby into a real money maker. The perfect platform for you to realize this is Gamer Saloon.
On this website, gamers get to sign up and then choose from a variety of games they like. As a player, you will compete against other skilled gamers, and if you win, you get paid for your winnings!
It is one of the most popular and oldest web-based video gaming websites. You get to sign-up with them free of charge. You can play as many exciting games on this website as you want.
The good thing here is that you get awarded points for every game that you win. If you want, you can change your points into cash or other prizes that you will get offered.
If you get announced as a winner, you'll get rewarded in points that you can redeem for cash. You also get rewarded for referring other players to the platform.
5. Live Stream Your Games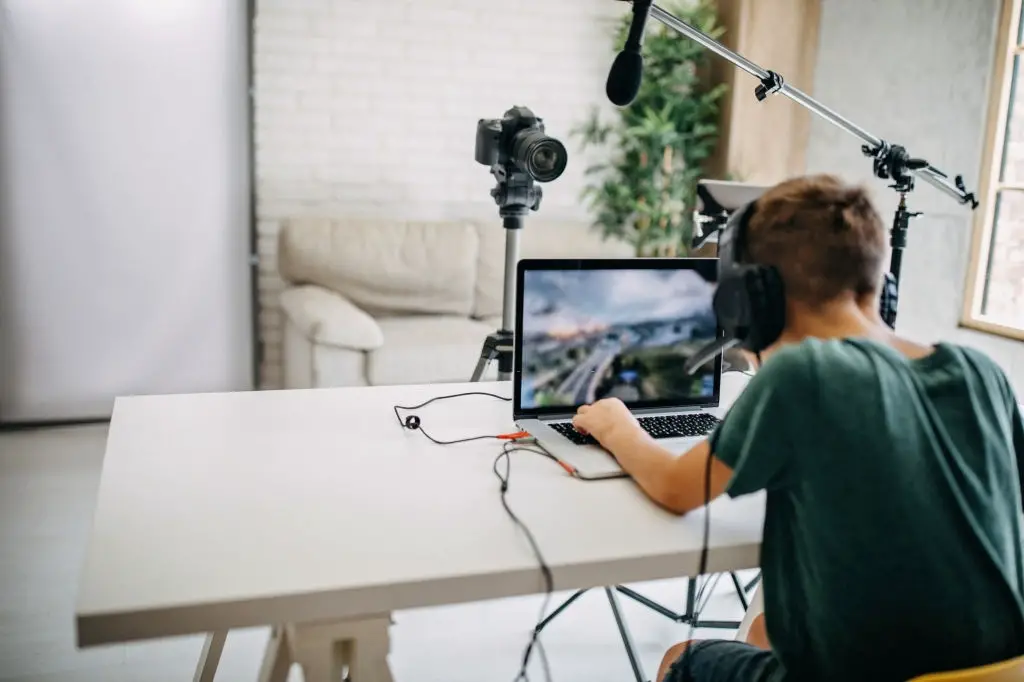 Another fun way that you can make money from games is through live streaming. Sounds unrealistic? You can do this by live-streaming yourself playing your favorite game for your audience.
Your audience can be people from different parts of the world. Remember, if you have a broad audience, you can sell ad space to ad companies.
You can earn lots of money from advertising agencies that will pay you to advertise on your channel. They will be seeking to advertise their products or services through your platform.
You can get started on platforms such as Twitch, YouTube Gaming, Facebook Gaming, or others. These are some of the popular platforms that you can make cash showcasing your talent.
You can also make money directly from your audience in the form of donations, super chats, stars, etc. Every platform has its own form of currency that viewers can pay directly to the streamers.
You can stream from any gaming device like PC, consoles like the Playstation or XBox, or your smartphone.
Some of the most popular game streamers are –
You can also make channels and build huge audiences just like them!
Things to note:
Making money live streaming games is not easy, and it takes time and effort for you to build an audience. For this, you will need to be patient and consistent with what you do.
Another obstacle is that there are lots of games that are live-streamed out there. Yours could also be one of those, and you may need to be very creative to stand out from the crowd. You either need to be really good at the game you're playing or have an entertaining personality to hold your audience.
6. Play Trivia Games and Get Paid
There are trivia apps that allow users to play and earn specific points that can be redeemed for money. This method might not be that lucrative and probably won't generate you as much money. It can, however, be a good way for you to make money playing video games if you find trivia fun.
For you to make good money out of playing trivia, you must answer all the questions right. Several trivia apps offer users an opportunity to earn points.
Here are some of the popular trivia apps:
7. Create Video Game Guides (If You Are an Expert)
Video game lovers are usually seeking for ways that they can hone their skills to become even better. For this, they look around for video gaming guides that can help them become better players.
Here's how you can cash in on this type of demand. Look out for websites that seek advanced players' guides or video guides for games. Such websites will pay you for offering your expert guides either in video or writing.
For you to make more money from this method, you will have to type for various websites and get paid.
To find out more about websites that will pay you for such guides, kindly check out the following:
Of course, there are several other websites that will offer you cash for writing guides. You can search online to find more of them.
8. Become a Video Game Coach
Do you know that you could also make some quick cash by acting as a coach? Yes, you can offer to render your video game coaching services to willing learners. You can, for instance, choose to teach about your favorite competitive games.
Most video game coaches earn between $15 to more than $200 per hour! This is usually dependent on their experience, expertise, skills, and demand.
A great way to start this is through YouTube. Create a section there where learners can contract you on an hourly basis.
For you to get some following, you will have to set up a YouTube channel where you offer some free game playing tips. This will help you gain some following or an audience. You can then advertise your video game coaching services to this audience.
You can also sell your video game coaching services on a site such as Fiverr. All you need to do is simply create a free account on the platform and then set up your gigs profile there. You can then charge from as little as $5 to provide your favorite game's coaching service.
It is important to note that Fiverr will charge you 20% of every transaction that is made on its platform. For instance, if you get a gig of $100, $20 will go to them. The advantage of using this platform is that you will easily reach your target audience faster than you'd probably expect.
9. Create a Gaming Blog
The other method that you can use to make money is by creating your own gaming blog. This method requires you to be patient because it takes some time for you to start earning.
Just like having a YouTube channel, you could also post your videos on the blog. The good thing about starting your own blog is that you can cover a vast variety of gaming content like trailers, walkthroughs, cheats, hacks, etc. You could also write reviews of the best and hottest games available in the market.
You can start setting up your gaming blog easily with a cheap and reliable hosting company like Bluehost.
Game lovers are usually on the lookout for such content that carries information about their favorite games. This can bring you massive traffic from gaming enthusiasts.
You can then engage advertisers and sell them advertising space on your blog and earn money.
10. Engage in Esports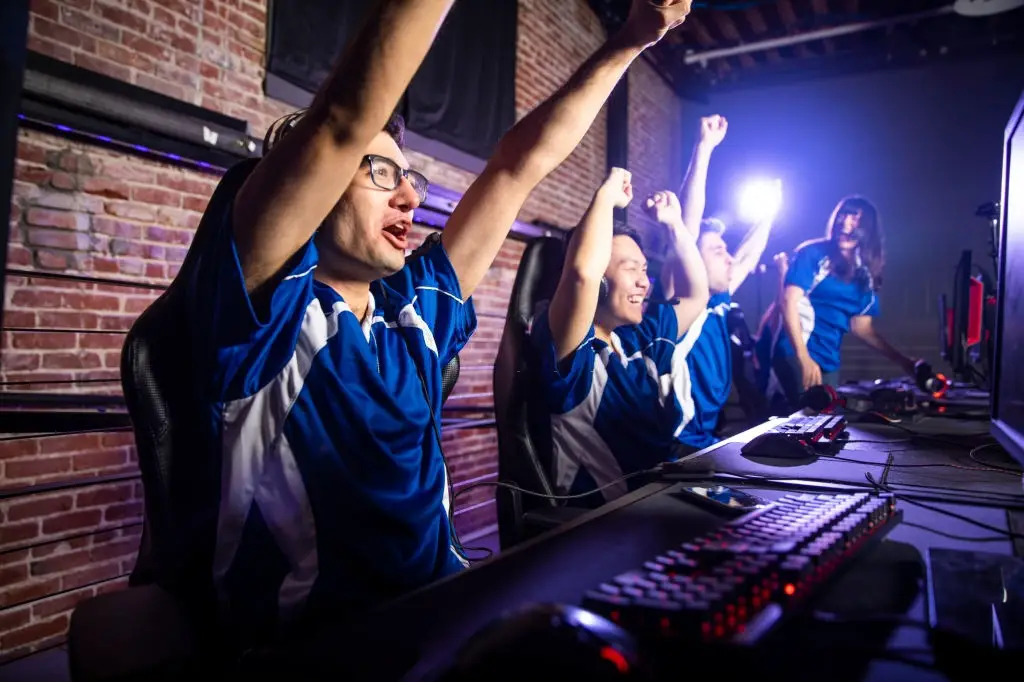 You can become an Esports professional if you are multi-skilled and talented at playing computer games. For this, you must be an elite gamer who is willing to attend physical competitions to play for cash. Numerous esports championships even get televised for the game lovers to watch live!
As a pro player, you can make money by winning at team tournaments. You can also sign up as a salaried player for a team that will hire you. If you are good at what you do, you can make substantial amounts of money to play computer games as a pro.
One of the biggest challenges of earning money as a professional player is stiff competition from other players. The good part is that once you manage to sign with a top team, you can have a successful career and be paid good money in the form of a monthly salary!
11. Farm and Sell Game Accounts or Items
Farming accounts and selling them for profit is a relatively new way of making money from video games. In this method, you will have to create an account in a certain game and make it rise the ranks.
The more in-game items and other valuable goodies like points or coins that you can acquire, the more you will be able to charge for it.
The idea is that a lot of people want to be able to play the games with all the in-game perks and boosts without having to start from scratch.
This method might not make you a lot of money but it's still better than playing games for free. It lets you take advantage of the new in-game economy concept added within games as a way of monetizing them.
Some of the websites where you can start selling game related accounts and items are:
12. Some More Ways of Making Money Playing Video Games
Become a Video Game Developer
You can also make money from video games by becoming a game developer. For you to get successful at this, you will have to get a higher specialized education.
Top game developing companies are usually on the lookout for fresh and new talent. With proper education and a knack for gaming, you can get paid well as a full-time computer game developer.
If you don't know anything about game development, you can start learning with this course.
Work as a Video Game Customer Support
You could still make money from computer games without much technical knowledge. Finding a career as a game customer support personnel can earn you good cash.
Working as a support agent for a gaming firm is not that technical — some of the duties that you may be tasked with performing are billing, order fulfillment, and subscriptions.
Become a Video Game Technical Support Agent
Apart from the customer support reps, game companies also hire people that offer technical advice to their customers.
For you to be able to be considered for this role, you must have a vast knowledge of gaming. Working as a video game support agent can earn you lots of money, usually more than customer support.
Conclusion
Well, making money from video games can be your thing even if you are a casual gamer or a serious one looking to make some serious cash.
These days there are professional gamers who have made full-time careers out of gaming. Today, more than ever, there are lots of opportunities to make money from gaming.
We are witnessing the gaming industry grow with new advances in technology. This means things are getting even better for gamers. You can use this to your advantage and take up gaming as a full-time or part-time career.
To be honest, it is not easy when you start, but as you grow in the industry, you get to learn more tricks of the trade. This helps to make you a better professional who can compete at high-profile events. After all, nothing comes easy; you need to put in a lot of time and effort if you wish to be a success story.
You now have the information that will guide you to find the best method. It is up to you now to select a method, work towards it and make some cash.
Now that you've learned about some ways to make money playing video games online, which method did you like the most? Which method do you think suits your lifestyle the best and can make you the most amount of money?
Let me know in the comments below! Also, I'd love to hear what your favorite games are!