Have you ever heard of a money-making method that involves becoming someone's online friend and getting paid for it? Sounds weird, doesn't it?
Well, there are many people who get paid to be an online friend and make some substantial income from it. In today's tech-savvy world, you too can do this and make some good cash.
And if you're thinking that becoming someone's virtual friend online involves dating or any other dodgy activity, then you've got it all wrong. A lot of people who pay to be friends with others usually do it for the companionship they are seeking at the moment and not for any wrong intentions.
You can become someone's friend and share fun activities such as going to the movies together, walking in the park, or even going adventure cycling with them.
Of course, you need to be an outgoing person for you to fit into this kind of arrangement perfectly. And if the idea of meeting strangers and making friends with them sounds appealing, then you can easily fit in fast.
In this article, I'm going to list down some online platforms that you can get signed up on to meet people seeking friends and get paid to be their virtual friend.
Best Ways to Get Paid to Be an Online Friend (Paid Companionship)
There are several sites and apps that connect people seeking friends or companions. Here's a list of some of those online platforms where you can sign up and provide companionship for money:
1. Rent a Friend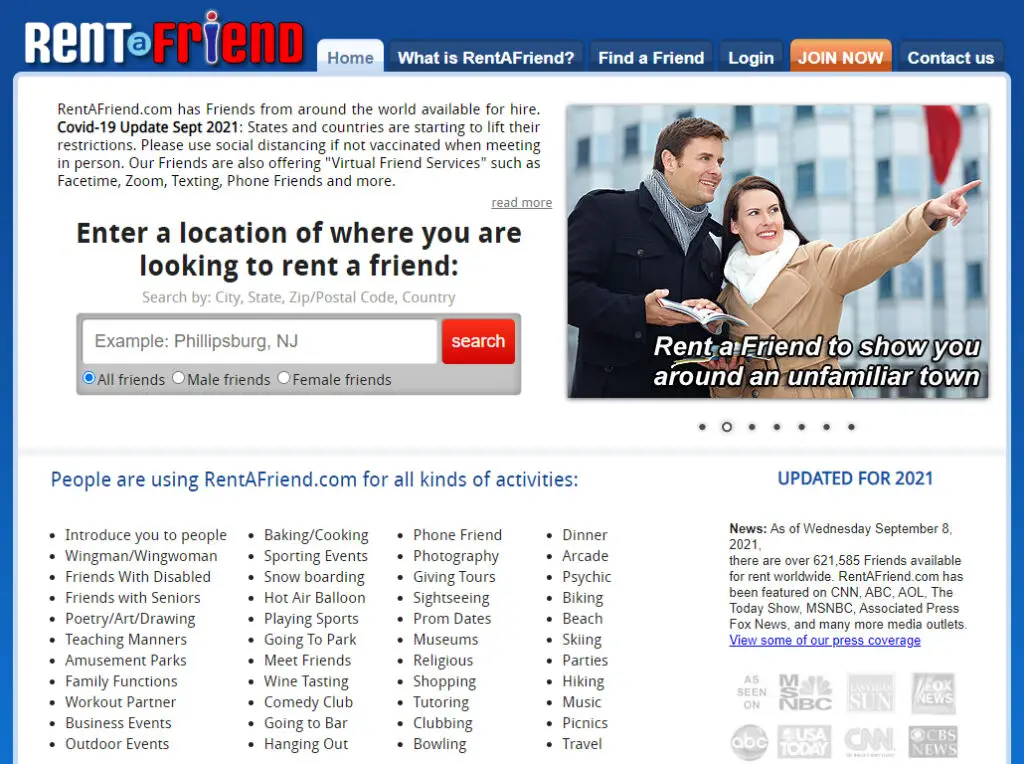 One of the best available online platforms where you can get paid to be an online friend is RentAFriend.com. The platform has a huge user base of people who are seeking paid friendship or companionship.
According to the website, it has a database of more than half a million active users who are looking to find paid friends in just a single day.
What does it take to join RentAFriend?
As a first-time user seeking to sign up to RentAFriend.com, you will be required to fill out an application just like other membership websites. You will also be asked to provide your full name, location, and gender.
There are lots of users who are in the race to find "mates" who can pay them for their friendship. After signing up to make money working as a friend, you then have to market yourself as much as you can. The better you promote yourself, the more your chances of landing lots of "friendship requests".
After filling out the online form and submitting it, you have to wait for some time for your profile to become active. The website verifies the details you provide before finally allowing it to go live.
How much can I make on RentAFriend?
As per the claims made by the website, users signed up as friends can make anything from $20 to about $50 per hour. They even have some users working full-time as friends who make money to the tune of $2,000 every week.
You need to be aware of the fact that the amount you make from the website will depend on how much you are available to work. Of course, other factors will come into play, such as your location and the activities that you're willing to do.
I'd suggest you create a profile on the website and see for yourself how much you can make by offering yourself as a friend.
What is expected of me as a friend on RentAFriend?
Once you have signed up as a friend on RentAFriend.com, the things you are expected to do are activities that you're probably already doing with your regular friends.
You may be required to accompany your new friend to an amusement park, sporting event, or other activities. The person buying your friendship may tell you in advance the activity they'd like you to accompany them in doing. This will help you get prepared for the situation beforehand.
Some of the most popular activities you can expect include the following:
Walk on the beach
Go bowling
Attend comedy shows
Attend parties
Go to concerts
Golfing
Family get-together events
VIP events and traveling
Go cycling
Even as you accompany your friend to any such activities, it is essential for you to bear in mind that your relationship is strictly limited to fun and nothing more. The website prohibits romantic kinds of relationships. However, users have the discretion to do what they please after their initial meet-up.
It is also important for you to get acquainted with the small details such as the meet-up time, date, plan of the day, and the total amount you will get paid.
What about safety?
RentAFriend.com, unfortunately, doesn't do the due diligence of performing a good background check on people who are registered on it as users. Instead, the website puts more emphasis on the paying members looking for friendship services. Of course, this does not guarantee that individuals registered on the site are safe.
This is why any individual on the website needs to take extra security measures to remain safe. If you are going to meet with a stranger for the first time, ensure that your venue is a public area with ample security.
A good rule to follow is not to trust anyone you meet online. And do not accept to accompany them to their private residence or hotel room. Doing this might compromise your security and safety.
Important points to consider:
Becoming a friend is completely free on RentAFriend. As a person providing friendship, you enjoy the advantage of keeping all the proceeds you earn. Instead, it is the friend seekers who are charged by the website.
You also enjoy the liberty to choose the person you want to become friends with. You can do this by interacting with the users who are looking to pay for friends. All the members seeking to make friends with you are paid members on the site.
2. Rent a Local Friend
RentALocalFriend.com is yet another website that you can register on and get paid to be an online friend. The site offers you the opportunity to be a friend online from any city in the world. The website also makes it possible for you to be a text friend from your location.
Users who are seeking the services of friends on this website are required to select a city where they wish to find a friend. It could be a travel destination or even a city that they reside in.
To get registered on the site to make money as a friend, simply enter your details such as your name, city, age, and other basic personal information. The best thing about this website is that you can also register here as a travel agent if you reside in a popular travel destination.
Users registered on the site as friend seekers have the opportunity to browse hundreds of profiles of potential friends. The profiles show the interests of each of the users, and so it is up to the searcher to choose one that best suits his/her unique needs.
Once you get registered on the platform, just ensure that you provide sufficient details about yourself for people to be able to connect to you.
There are lots of users who are already registered on the platform keen on finding clients looking for friends. So make sure you create a profile that markets you well and makes you stand out to potential clients who might hire you as a friend.
How much can I make from RentALocalFriend.com?
Well, I researched the website about the possible amount of money that a user can make selling their services as a friend but I couldn't find much information even by reading through the website's FAQs.
However, a look at the profiles of most of the users on the website can give some clues on how much you can make there as a friend. Most profiles charge at least $50 to upwards of $200 for a day offering friendship services. You have the discretion to set your rates and the possibility of earning as much as $120 in a single day!
RentALocalFriend.com, however, works on a different model compared to RentAFriend.com. Users selling their friend services are required to pay a certain annual fee on this site. The advantage you get with using RentALocalFriend.com over RentAFriend.com is that you won't experience as much competition from other users.
It is important to note that it will cost you an annual fee of $100 to get registered as a friend on the website.
3. Rent a Cyber Friend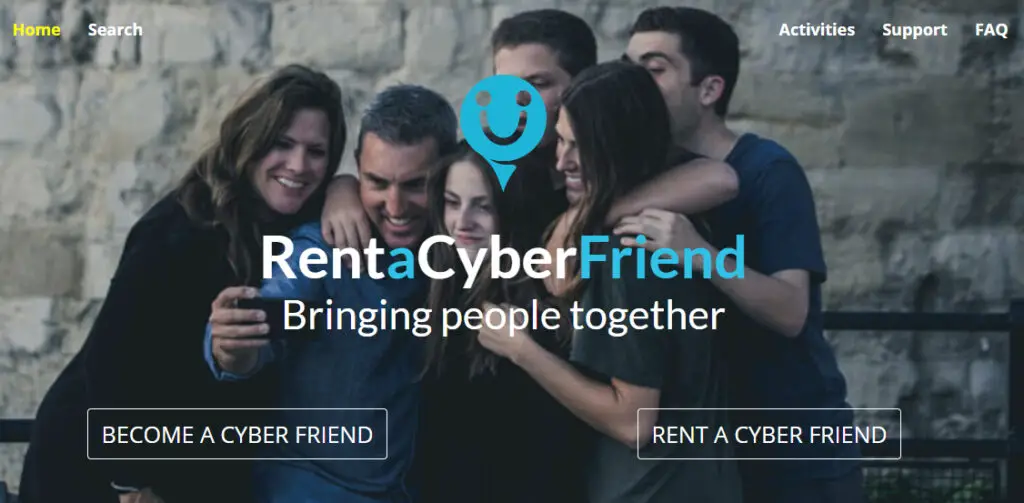 Rent a Cyber Friend is yet another amazing meeting platform for people seeking and offering friendship. The website describes itself as a modern digital take on the old concept of pen pals.
You can offer many more services besides friendship in the form of gigs. For example – being a local tour guide or a language tutor.
People seeking these services can then bid on your gigs. You also have the freedom to set your own rates, usually in the range of $15-$50 per hour. Do note that you can only withdraw this money once you reach the minimum payout amount of $75.
The website is completely free to join but also has premium plans starting at $29.99 per month with a $99.99 yearly plan, offering more value for your money. The premium plans offer greater visibility and faster matchups.
A unique thing about this platform is that it offers and encourages its members to create virtual products that they can sell based on their expertise. This provides more opportunities for people to make extra income on the side.
Another advantage of using this site is that you can view the profiles of the people offering friendship here without registering. So you can get an idea of the kind of information you'd have to provide before signing up.
4. FriendPC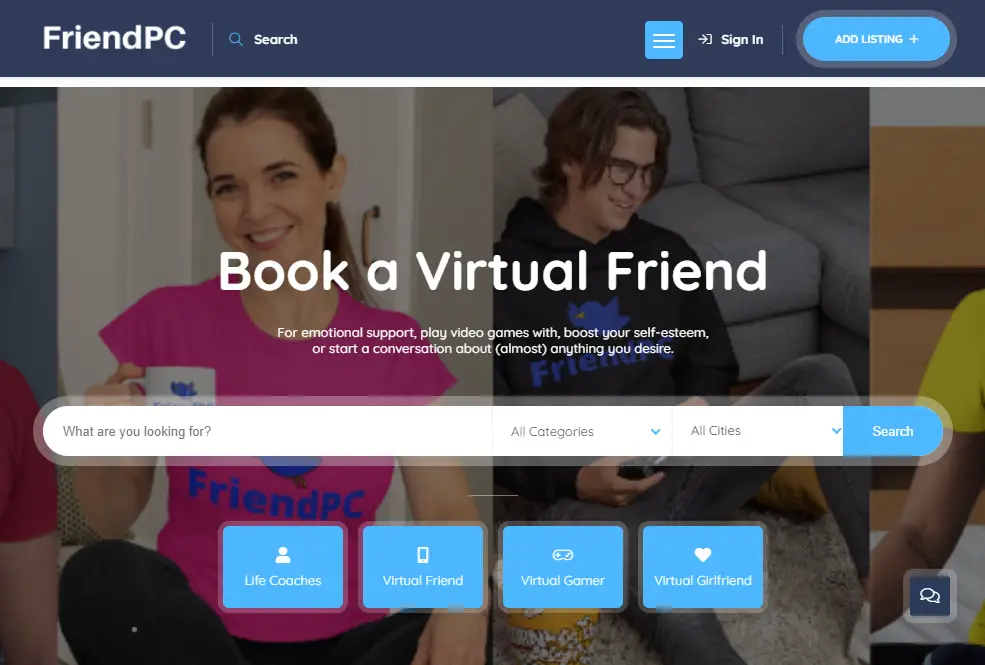 FriendPC is yet another amazing option when it comes to offering virtual friendship for money.
You can offer various services and fulfill tasks such as becoming a gaming partner, being a virtual girlfriend, an online life coach, or you can even help someone improve their social skills.
This website offers various modes of communicating with your new online friend including phone calls, chatting, text messaging, video calls, etc. Pretty much anything that works for you.
Another great advantage of FriendPC is that it offers to pay users instantly as soon as they complete tasks that they were booked to do. So you won't have to wait a long time to get paid after delivering your services.
One of the best parts about this platform is that you only offer services that you feel comfortable doing. You also get to decide your own rates for the services that you provide.
How much can you get paid on FriendPC?
After researching a bit, I found out that users usually get paid between $5 and $30. But you are free to charge more if you feel that you are providing a better service.
Keep in mind though, that FriendPC takes a 30% commission out of your earnings on the free starter package. For lesser commission pays to the site you need to pay for one of their professional friend packages.
5. Fiverr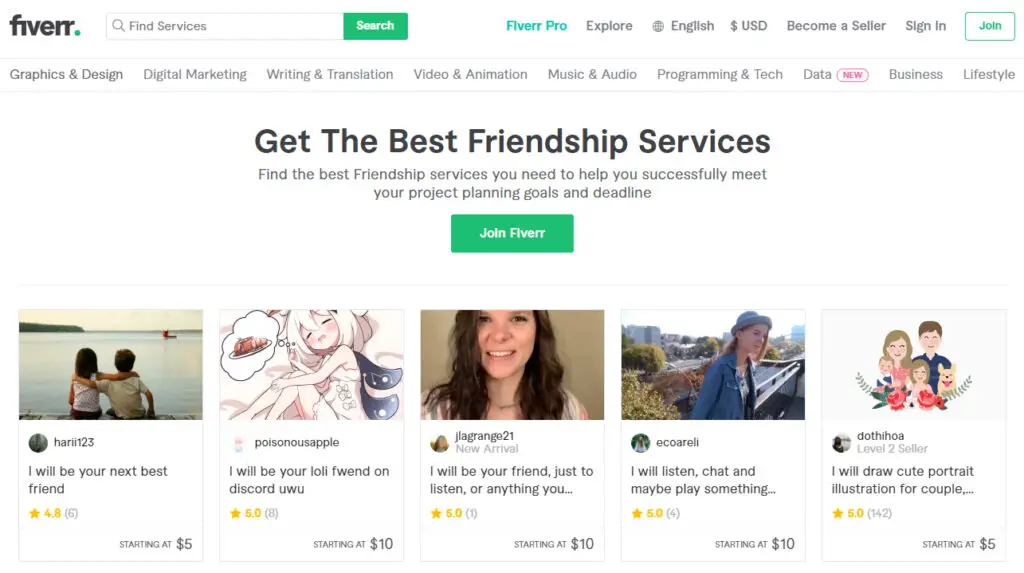 Fiverr.com is a large marketplace for freelancers who sell their various services and for clients seeking those services. Some of the freelance work that is popular on this website include; web development services, writing services, digital marketing, etc. What most people don't know is that the website also provides a platform for clients looking for friendship services.
The part of the website that deals with friendship services is known as Fiverr Friendship. To join this service, you can simply sign up and provide your details such as your name, interests, etc.
Once you've created an account, you can then go ahead and fill up your profile with details about yourself. Make sure to write appealing things about yourself that will sell you to potential clients. There are various friendship services that you can offer to make money here.
Some of the friendship services that you can offer to prospective clients include:
Gaming
Relationship advice
Spiritual and healing
Arts & crafts
Astrology & readings
Health, nutrition & fitness
The advantage of using this site to sell your friendship services is that it has a very large database of certified clients who are seeking these services. Your country of residence also does not matter as Fiverr Friendship is an online service.
The platform also has various payment options where clients can easily send payments to you. The site also supports various multinational currencies, which means that you can get paid even in your local currency for your friendship services.
Besides friendship, you can also sell other services such as copywriting, social media management, graphic design, or pretty much anything else that you're good at to make some extra money for yourself.
How much money can you make on Fiverr.com as a friend?
I checked on the website for the amount that users usually charge here and discovered that on average most of them typically charge between $5 and $25 to offer their friendship services. This, however, doesn't mean that you can't charge above this average, depending on the quality of your services.
Related: How to Make Money Selling Photos of Yourself
6. Freelancer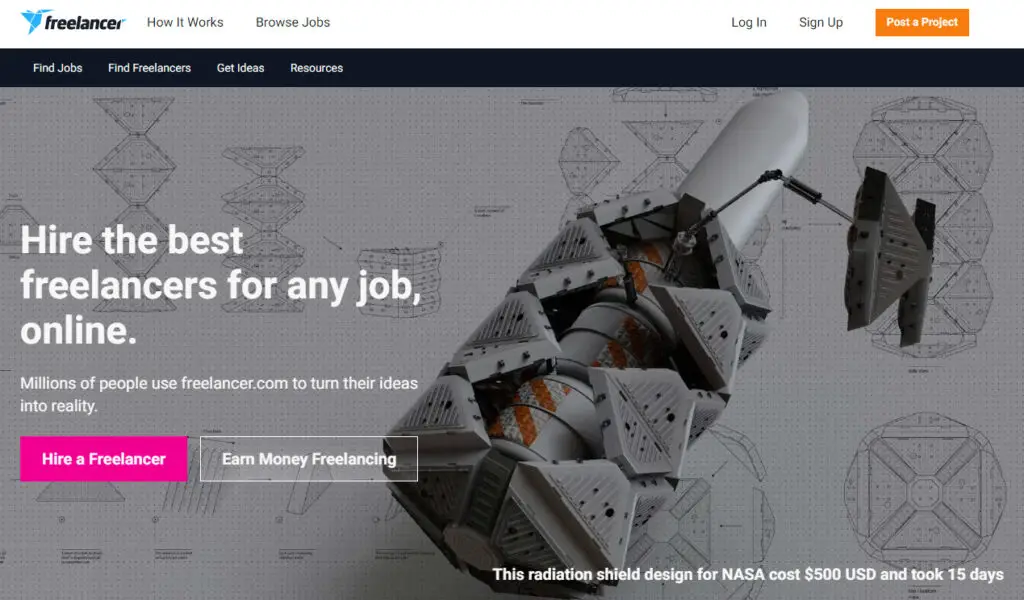 Similar to Fiverr, Freelancer provides a platform where you can buy or sell different types of freelancing services. This can also include virtual friendship services.
Since Freelancer is a well-established and reputed website, it is great at weeding out scammers and other shady users. This provides a safe place for you to offer your friendship services online.
You just need to use the search bar on this website to search for terms like "friend", "friendship" and "chat" to find opportunities to provide services to people looking to pay for an online friend.
The payment process here is extremely secure, reliable, and fast, making it a fantastic opportunity if you need to make money urgently. You can withdraw the money to your PayPal, via wire transfer or Skrill.
Freelancer also allows teenagers aged between 15 and 18 years of age with the consent of an adult to use their account, making it a great way for teenagers to be able to make money.
Users offering friendship services can expect to make in the range of $12 – $25 to offer their friendship services. You can obviously charge higher or lower depending on the nature and quality of your services.
Note: In the beginning, you can bid on six projects for free. Higher-level paid membership tiers offer more number of bids.
7. Papa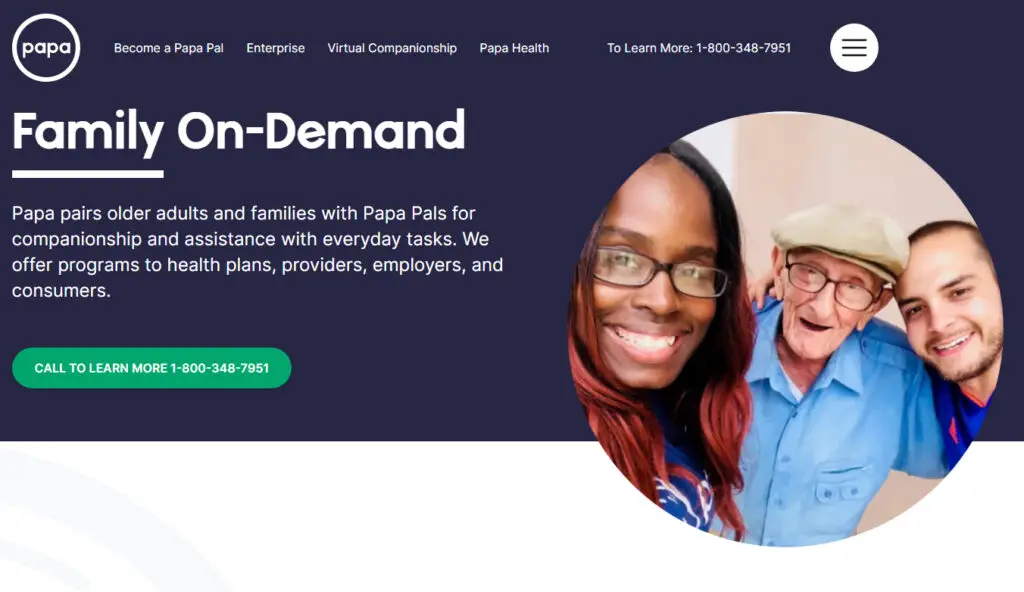 Papa is a unique platform where you can provide friendship to the elderly who are in need of companionship or battling loneliness.
Initially, the concept was to bring college students and old people together where the students would get paid to provide companionship to the elders.
This initial concept was based on physical meet-ups, but it has now changed and also includes virtual friendships. Even non-college goers can also apply to offer their services now on this website.
Reputed media houses like The New York Times have also acknowledged the contribution of this unique service where users help elderly people combat loneliness and provide them with quality company.
Users offering friendship services on this platform are known as Papa Pals and can make up to $25 per hour by just being a friend and up to $15 per hour for side gigs.
8. Seeking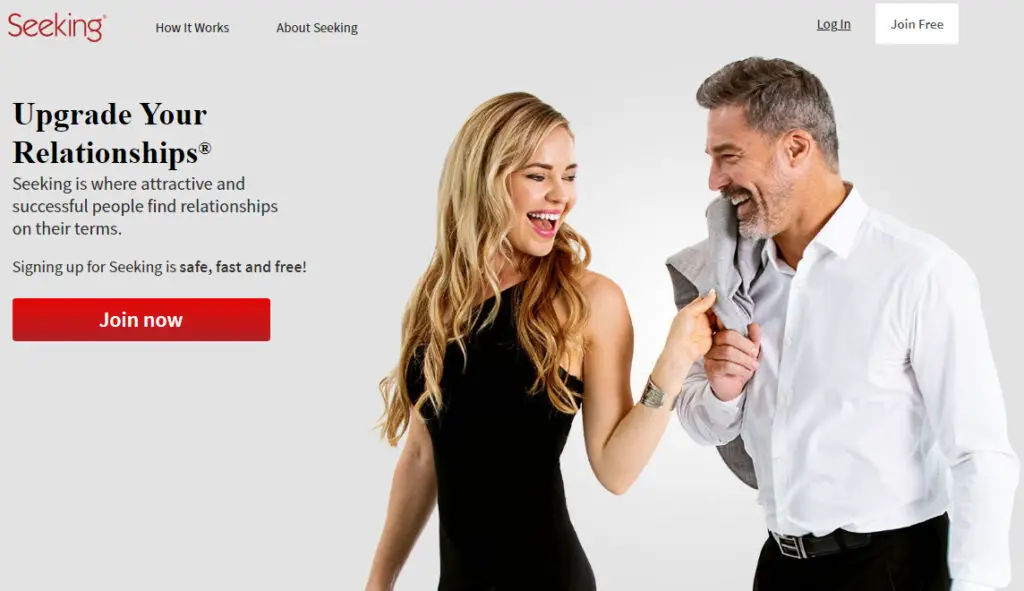 Seeking.com is a bit more complicated than the options listed above since the services that users offer here can be a bit more than just "friendship". In fact, friendship might be the least common service provided on this website.
Seeking provides a platform for people to get compensated financially for providing a whole variety of services that can also be a bit adult in nature. But that is not to say that you can't have a normal online friendship with someone.
You just need to make sure that you mention explicitly the kind of arrangement you're comfortable engaging in. There are various users who are making a decent amount of money offering just simple friendship services on this platform.
You can offer your services via chatting online or over the phone. Basically, you have complete control over what you're willing to offer and what you aren't comfortable doing.
The best part about this website is that the members are all background verified and are usually wealthy in nature – which means that you can end up charging way more money than some of the other platforms on this list.
Some users may wish to see your pictures or chat with you over a video call. And as long as you're comfortable fulfilling those requests, you can end up making a sizeable amount of money here. Always remember, you get to set the terms and accept or decline any specific requests.
9. PenPal World
Unlike the other platforms mentioned above, Penpal World is a free website and is not a place where you can make money directly. It's a platform where people come to make friends and connections all across the world.
If your only objective is to get paid to be a virtual friend, Penpal World might not be the right fit for you. I'm including this as a bonus platform for people who would like to make friends internationally and provide free-of-cost genuine friendships to others.
The free account of Penpal World lets you contact up to 3 people in a span of 24 hours. The site also provides VIP memberships starting as low as $ 0.10 per day that allow you to contact up to 50 people every day.
The owner, Jakob Herrman has been running the show single-handedly since the start of this website. He is an excellent example of how someone with determination and a real passion to bring people together (paired with excellent programming skills) can build up such a huge and wonderful community. And not to forget, make good money out of it!
FAQs
1. Who Is a Virtual/Online Friend?
A person who you develop a friendship with online (on the Internet) is commonly referred to as a virtual friend. The fact that in today's technology-powered age you can become a virtual friend from the comfort of your home brings about lots of easy opportunities for you to make money online.
2. Can I Get Paid to Be an Online Friend?
Yes in today's internet age, it's absolutely possible! To start getting paid as a virtual friend or online listener you just need to follow some common steps such as:
– Create your profile
– Fill up your profile with all relevant details like your interests and skills
– Add your payment details
– Clear the personality tests (as required by some of the websites)
– Wait for potential clients to approach you
3. Is Virtual Friendship a Real Friendship?
In case you've been wondering if online friendships are actually real, the answer is – Absolutely yes! The mode of communication is of least significance and what matters is the social and emotional connection between friends.
Final Thoughts
To summarise, in this article you learned how you can get paid to be an online friend as I listed down some of the best websites that you can join to start earning by offering your friendship services.
The two notable sites to earn decent money by becoming someone's virtual friend are RentAFriend.com and RentALocalFriend.com. Some of the other good websites include Fiverr.com, Freelancer, and others.
Some of the websites listed here will pay you immediately after you complete tasks whereas, on others, it might take a little while to get established on. And as with everything, you will get better and start earning more as you gain more experience and build more friendships online.
And the best part is that you can end up making some real long-lasting friendships while doing this as a side hustle!
Let me know in the comments below if you've ever provided friendship services online and how your experience has been. I wish you all the best!