Do you love to keep fit? If you answered yes, then have you ever considered the possibility that you could get paid to walk?
Walking is a part of everyone's daily routine. It is something that we do every day, from the second you wake up in the morning till you hit the bed again at night.
Then, throughout the day, there are various tasks that require us to walk. Till now, you might have been using your feet just to move from one place to another. But now, you can be making extra money while you're at it!
You may be wondering how that's possible. If you search online, you will find various apps that pay you to walk.
Even though all the different ways mentioned in the article below are great ways of making some side money, they cannot replace your regular source of income. However, it can still be fun to earn some extra cash by doing something as natural as walking.
Also, since there is a monetary incentive, it will motivate you to walk more. Which means technically you will be getting paid to take care of your health.
Even if you don't make a fortune, you will still have the benefit of keeping yourself healthy. If you want to stay fit, these get-paid-to-walk apps can be some of the best and most effective types of apps to have on your phone.
Since these apps reward you with free money, gift cards and other similar prizes, why not do it every day anyway.
Best Free Apps That Pay You to Walk and Stay Fit
If you are still contemplating whether to try these apps or not, just go through the list shared below. And hopefully, by the end of this article, you would have changed your mind. So let's begin:
1. SweatCoin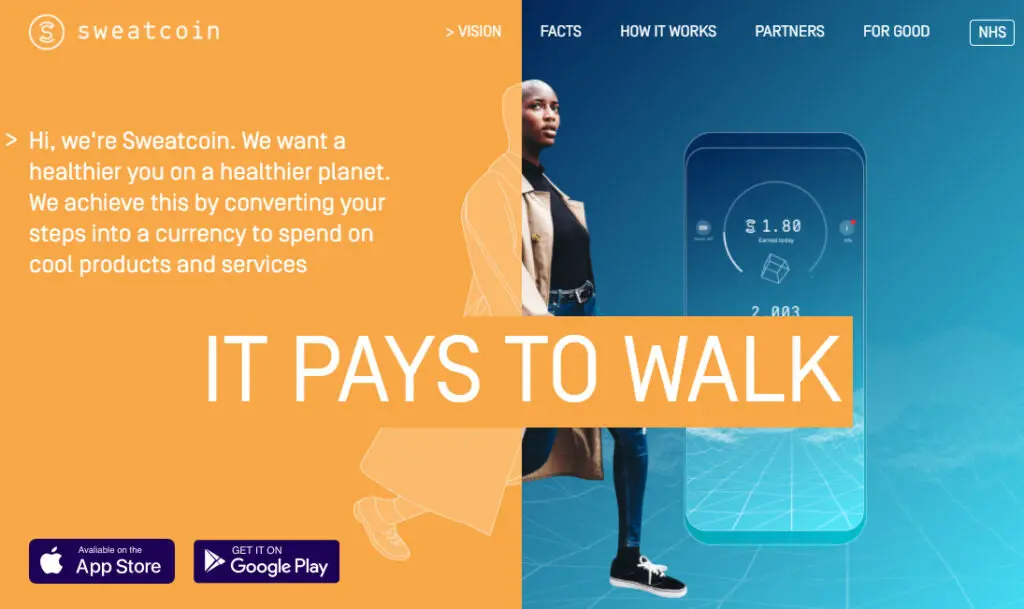 SweatCoin is on top of this list as it is one of the best free apps that pay you to walk. But to get paid with this app, you will have to walk outdoors. And that means walking on a treadmill and around your house won't make you any money.
To make money through this app, you will need to take at least 1,000 outdoor steps. For every 1000 steps, SweatCoin will reward you with 0.95 SweatCoins. These SweatCoins are a form of currency within the app.
You can redeem your SweatCoins for goods, services, and other experiences. These can include things like electronics, magazines, energy drinks, music downloads, shoes, watches, and much more. The rewards on SweatCoin keep changing regularly.
However, if you are dreaming of making big bucks here, allow me to bring you back to reality. You will be earning money, but it'll only be enough for a side income. But don't let that make you feel demotivated.
As a feature, you can also merge your Sweatcoins with your friends. This can allow you to go after and get some of the higher ticket items being offered on the app.
They also have a long-term vision of becoming a tradeable form of currency in the future like Bitcoin and Ethereum.
How many SweatCoins is $1?
At the time of writing this article, 1 SweatCoin equals $0.01 USD, which means that 100 SweatCoins are equal to $1 USD
Does SweatCoin give you real money?
The only time you can exchange SweatCoins for real money is once you reach the minimum payout amount of $1000. This can take a long time depending on your walking schedule, but it's definitely worth going after!
Otherwise, you can earn money with SweatCoin in the form of things like Amazon gift cards which do hold significant monetary value.
2. Evidation (formerly Achievement)
One of the most popular apps that pay you to walk, Evidation, is an ideal place for those who love exercises of various kinds. Besides walking, Evidation also pays you to jog, run, swim, bike, play a sport, and more. 
When you create an account with Evidation, you will get 100 free points as a new user which can also be cashed out to your Paypal. You can track your activities every day using the Evidation app. 
The app will award you 6 points for logging your food consumption, sleeping timetable, weight loss/gain, social media updates, and more. You can make up to 80 points per day only by logging your activities.
For every 10,000 points, you will get $10 in real cash. You can take the reward or donate it to a charity registered on the app. To make additional money, you can take health and exercise surveys as well.
The app can be linked to a variety of fitness trackers such as Fitbit, Apple Watch, and others. However, it is not mandatory to do so as the app effectively pays you for the data you log through your smartphone as well.
With all these features, Evidation presents an efficient choice to make money by walking. Also, don't forget to redeem your points regularly as they expire in a year after you've earned them.
3. Lympo – Walk, Run, Earn
Lympo is an interesting app, just like its name. Besides being similar to other apps on this list, this one also pays you for completing challenging tasks related to walking and running. 
The app creators are always adding new challenges to the list. Once you complete a challenge, you will be rewarded with LYM tokens. You can then redeem these LYM tokens for rewards available on the app.  
However, as the LYM tokens hold an actual cash value, you may sometime in the future be able to convert these tokens into real cash and transfer them to your e-wallet.
Lympo also allows you to link the app with many other popular health-tracking tools to make it easier to track and monitor your progress. 
And here's the best part about this app – You can take on and complete the challenge from anywhere! It could be outdoors, indoors, or on a treadmill. It doesn't matter where you are as long as you are walking, running, or completing your tasks. 
As of now, Lympo has also begun to offer Amazon gift cards, amongst other things. This could be a great bonus for the users. 
Moreover, this app allows you to share your challenge accomplishments with others. So try out the inspiring challenges of Lympo and make yourself a few bucks richer.
4. Runtopia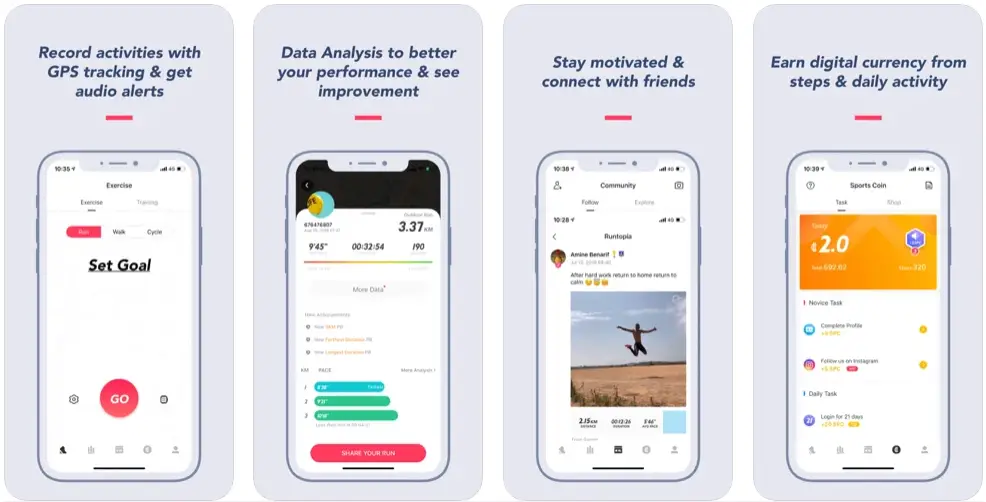 Runtopia is a great app for those who are looking for a reliable option to get paid to walk and exercise. It has some amazing features that make it different from other similar choices. 
The fundamental working of this app is quite similar to many other apps. You earn points that you can later redeem for various types of rewards. 
However, this app has a few unique features that are hard to find in other apps. For instance, it provides an audio coach feature where a voice coach will motivate you to keep going. 
There is also a personal trainer feature that helps in walking, running, weight loss workouts, and more. It aids runners in things like running form and technique. 
You can also share your workout progress with the Runtopia community and post images and videos to network with other users.
Runtopia also allows you to track your exercises and earn SPC coins for the number of steps you have taken. You can use your SPC coins for acquiring products, coupons, and even cash.
However, I suggest you redeem your coins regularly, as they do expire each year on March 1st. So make sure to redeem them before that.
5. Walgreens Balance Rewards
If you shop at Walgreens regularly, you can use the Walgreens Balance Rewards program. It allows you to get rewarded through Balance Rewards Points by walking.
For every mile of walking, you can get 20 points, and you can earn up to 1000 points every month. The best part is that for every 1000 points, you will get a discount of $1 on your purchases at Walgreens. You can also earn points for logging your blood pressure and weight details.
To get started, sign up for a Walgreens Balance Reward account through their website. After creating an account, you can download the app and sign into it. Then the app will tell you to link a fitness tracker or the sensor on your phone. Once it is done, start earning your reward points.
6. Higi
Higi is an excellent choice here and much more than just a walk-and-earn app. It is a consumer health engagement company that allows users to measure and track their health data.
The company has 10,000 health service stations cleared by FDA across the USA. The stations measure body fat, blood pressure, weight, pulse, etc.
Higi will pay you for a combination of finishing these health station check-ins along with exercising, walking, etc.
Higi will connect to fitness trackers and other apps on your phone and pay you for your actions. So it becomes really easy to get started with Higi right away.
To earn your rewards, the app provides certain challenges that you will have to complete on a weekly or monthly basis. Moreover, you can earn points each day by walking up to a mile.
You can get rewards in exchange for your points, but you won't get any cash in hand. Also, if you want, you can donate your points to a charity.
7. LifeCoin
LifeCoin functions just like Sweatcoin, but with a few changes. A free user here can earn a maximum of 5 LifeCoins every day, and with every 1000 steps you take, you will be rewarded 1 LifeCoin.
Now you must be wondering how this is different from SweatCoins. If you want to earn up to 10 LifeCoins per day, you will have to upgrade your membership to $4.33/month.
After upgrading, you will also be able to access amazing apps like Azumio Premium and more. To redeem the LifeCoins that you earn, you can pick from a variety of gift cards. You can also choose from physical products like Airpods, Beats headphones, etc.
So, to make some side income, just download the LifeCoin app and start walking. Remember, this app will only work with outdoor steps, and indoor activities will not make you any money.
8. StepBet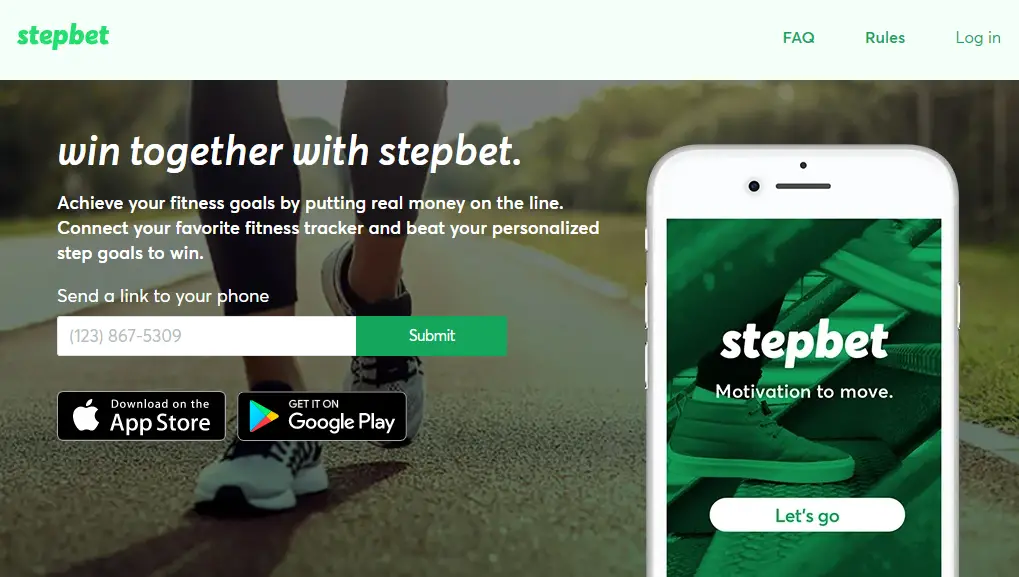 If you want to get paid to walk, StepBet is an extremely unique app. In this app, you will be setting some fitness goals and placing a bet on yourself to meet those goals. 
If you accomplish them, you win some money. However, if you fail to reach your goals, you will lose your money. The app will help you decide your fitness goals based on your performance numbers. 
It is a six-week regime, and you will have to complete your goals every week if you want to retain your money.
You can easily link StepBet to many of the regular fitness trackers. Normally, you would be asked to bet about $40 on yourself. I truly believe this will motivate you enough to meet your goals and make some side money, as the best type of bet you can place is to bet on yourself. 
StepBet is quite a bit different from get-paid-to-exercise apps. Since you bet your money and there is no guarantee that you will win. So it does involve a certain amount of risk.
If you win, you get to be on the list of winners, and you will make your bank account a little happier!
9. Charity Miles
If you want to do some charity work and donate, Charity Miles can be the app for you. This app doesn't exactly pay you but nevertheless, it is still a great model.
As the name suggests, you get to donate your rewards to a charity organization from the list provided by the app. While it works pretty much like the other apps, the additional step here is that you have to pick a charity.
With each mile of bike riding and walking/running, you will be paid 10 cents and 25 cents respectively. I don't think it's too bad, especially if you are already into walking, running, and biking.
Another thing about this app is the lack of automatic features. You will have to manually start and stop the app to earn rewards as you perform your activities. So don't be forgetful about it or you might start working out without getting any rewards.
Charity Miles makes use of GPS and motion sensors on your mobile phone to follow your activities every day. It works for both indoor and outdoor workout activities.
On Charity Miles, you can donate to more than 40 earnest causes such as:
World Wildlife Fund
Feeding America
The Wounded Warrior Project
World Food Programme
Save The Children
Habitat for Humanity
and many more…
10. EarthMiles
EarthMiles is easy to use and a simple-to-understand app. It is a well-designed app where you are paid in EarthMiles for walking and cycling. 
One of the key advantages of this app is that the harder you exercise, the more you get paid. For 1 km of walking, you get 1 Earthmile, for 1 km of cycling, you get 3 Earthmiles and 1 km of running gets you 5 Earthmiles.
With enough Earthmiles, you can buy healthy reward items. Every week, the app creators come up with new rewards for their users. As of now, there are many rewards that are available in the form of discounts on health products, services, and more.
11. FitPotato – Get Fit, Get Paid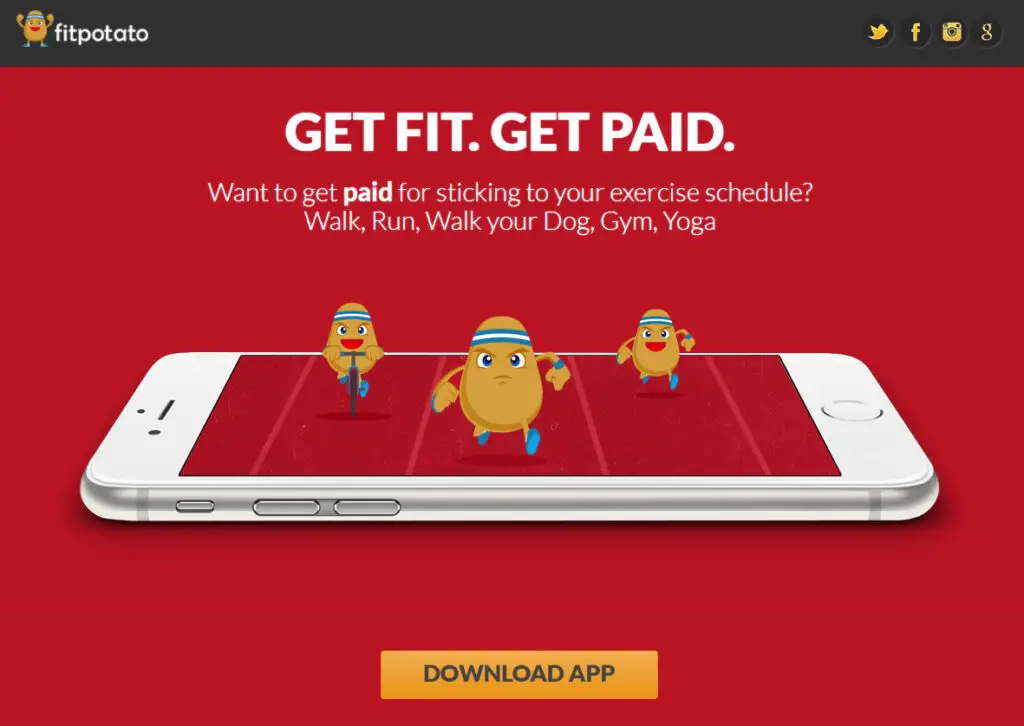 Want to get fit and get paid? FitPotato can be your solution. It is kind of similar to StepBet in certain aspects. It doesn't simply pay you for walking. Instead, you have to place bets on yourself to win rewards. 
Every week, the app announces a cash prize pool, which is usually $1,000. To be in the race of winning the cash prize, you need to bet $5 on yourself.
To win the money, you have to complete three sessions in 7 days. You can do walking, running or dog walking. 
Usually, the number of steps needed to complete each session is 6,000 steps. But it can be changed in the future based on the cash prize and other factors. 
When the week comes to an end, whoever ends up completing all the 3 step sessions will get a share of the weekly prize pool. And if there is only one winner, he or she will get the whole prize amount. 
If you lack motivation in your life to stay fit, then the FitPotato app might just be the one for you.
Alternate Ways to Get Paid to Walk
12. Rover – Dog Boarding and Walking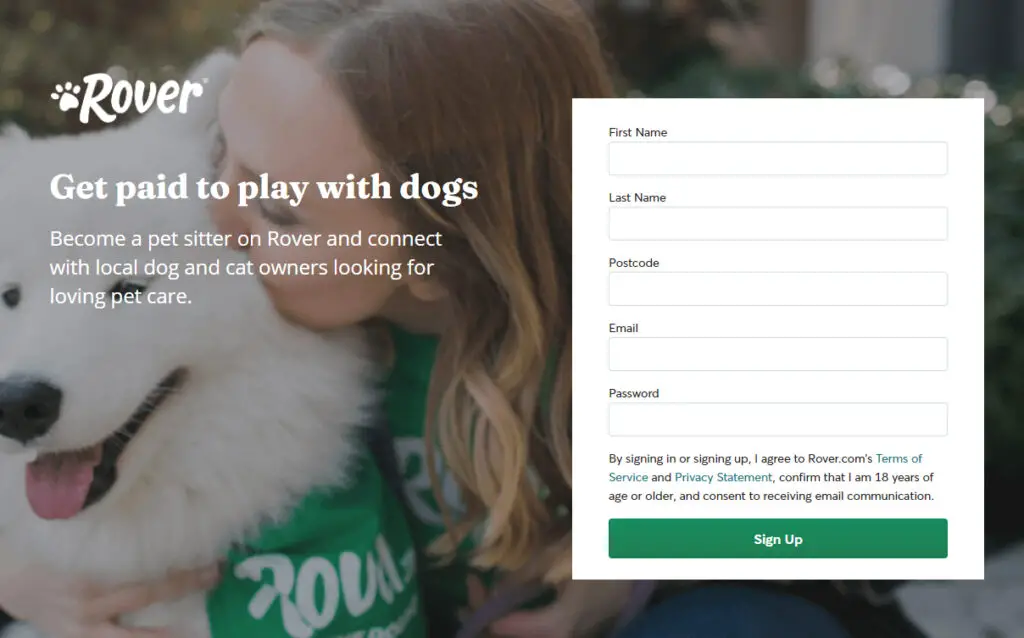 I came across the Rover app through one of my friends and I highly recommend you give it a try. Rover is an app specially designed for pet sitters and dog walkers. On this app, pet owners hire people to walk, board, and sit their pets, mainly dogs or cats.
If you don't mind taking care of pets, the Rover app can provide you with a lot of pet-sitting jobs. This is another great way of making money while walking.
Although Rover is primarily a mobile app, it also has a desktop website where you can register and start making money. So how does this app work?
It is very easy to use the Rover app. If you want to earn as a pet sitter, create a complete profile on the app. Pet owners usually go on Rover and find someone to look after their cat or dog. If they like your profile, they will hire you.
When creating your profile, focus on mentioning your skills as a pet sitter and how much you love and care for pets. Just don't go overboard with it and make things sound natural. After all, pet owners need to be sure that you will genuinely care for their pets, just like your own.
You will receive your payment through Rover. From there you can also cash out and transfer it to your bank. You will get paid within 3-4 days after providing your services.
13. Wag!
Wag! is another great platform that helps connect dog owners to on-demand dog walkers. Apart from dog walking, they also help their customers find people for services like pet sitting, boarding, in-home training, etc.
There are over 150,000 pet caregivers registered on this platform building a legitimate business in over 4500 cities across the US. So this platform provides a safe and secure way of making money by walking dogs.
To sign up to be of a Wag! Walker, just download the app and fill up your profile. Once your profile is approved, you can see the list of available jobs in your feed.
According to Wag!, dog walkers can usually make around $12 plus tips for a 30-minute walk.
14. DoorDash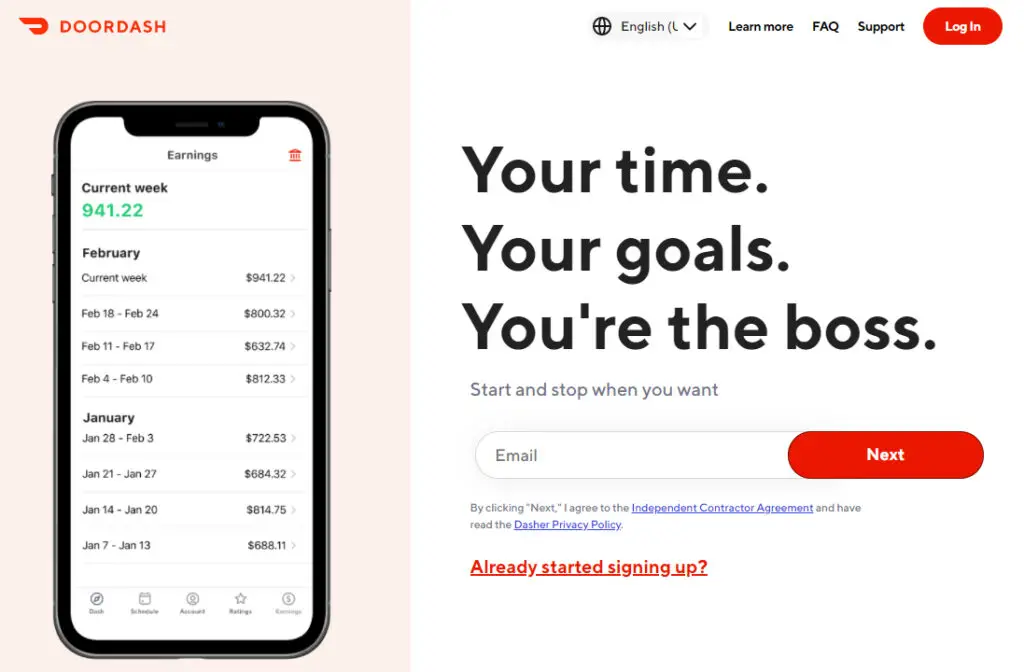 DoorDash is a very popular food delivery service that also offers a lot of other delivery-related services. It usually requires you to have some mode of transportation like a car or a bike to fulfill your delivery orders to customers. But in certain areas, you may be able to walk and deliver your orders.
You are in full control of the deliveries that you want to accept (or reject). Once you accept an order, you will need to go to the restaurant, pick up the order and then drop off the food to the customer. The app will also show you the amount of money you will make per delivery.
This provides a fantastic way of getting your daily steps in, and make some money on the side while doing so. You can sign up here to become a Dasher today.
15. Postmates
Like Doordash, Postmates is another popular food and grocery delivery service. Once you sign up with Postmates, you will get paid for delivering food orders to hungry customers.
Just like the case above, some deliveries might not be feasible to complete on foot. But a lot of nearby deliveries can be fulfilled by walking.
The company provides a lot of benefits for you to become a delivery partner with them, such as flexible hours, instant daily payments, and the ability to choose the deliveries that you want to fulfill.
16. Instacart
Instacart is a widely used grocery delivery service. There are a couple of ways of making money on this platform.
Besides delivering the goods, you can also sign up to become a shopper where you get the opportunity to make money by just walking through the aisles of a store and finding and collecting the items on a customer's shopping list.
As an Instacart shopper, you don't even need access to a car or a bike. All you need is the ability and desire to walk around a store and select items for customers for hours. That might come as second nature to you if you already love shopping (or even window-shopping).
The best part about this service is that there are no set hours or days, you get to choose how much or how little you want to work. Timings are also flexible according to your availability.
FAQs
1. Can You Actually Get Paid for Walking?
Yes absolutely. There are many apps that pay you for doing exercises like walking, running, and other physical activities. Most of them reward you in the form of in-app points or coins which can be redeemed for cash, gift cards, discount coupons, etc.
2. What Is the Best App to Get Paid for Walking?
Most of the apps mentioned in this article are fantastic motivators to get fit. Some of the best apps amongst these are SweatCoin, Lympo, StepBet, and Runtopia.
3. Are Apps That Pay You to Walk Legit?
Unlike what a lot of people think, most of these apps are completely legit and not scams. They all have different ways of rewarding you for your efforts.
As mentioned above, some may offer you gift cards and other in-app items whereas some will allow you to exchange your points/coins for real cash.
Conclusion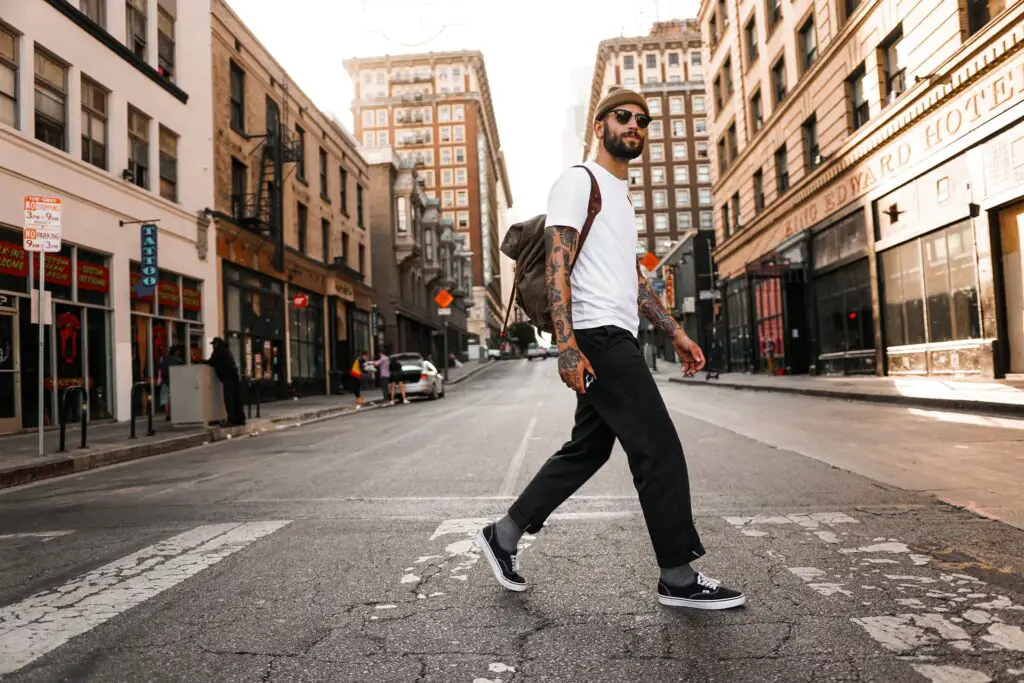 I hope that you've found this list of apps satisfactory and helpful. These apps offer an easy way to earn some money and other rewards by simply walking or doing other physical exercises.
It is quite obvious that you won't get rich with these get-paid-to-walk apps. But still, the best part of using them is that they motivate you to complete certain health tasks every day.
One way to increase your potential earnings while walking is to use more than one app. If you manage to register on multiple apps, then you could possibly maximize your earnings while doing the same amount of walking each day.
Also, if you own a dog, you could add to your earnings by adding dog walking to your list of activities. Or you can also make money walking by completing food and other deliveries on foot.
So don't just sit and wait for things to happen. Download and sign up with some of these amazing apps mentioned in this article and start walking or running.
And while you're out there, don't forget to invite your friends on your walk and enjoy the local surroundings. You can even ask your friend to sign up with the apps you are using. Then together, you guys can have some fun walking time while also earning some extra money.
I'd love to know if you have used (or are currently using) any of these apps. If yes, how's your experience been? And if not, which ones are you most looking forward to trying out? Let me know in the comments below and happy exercising!