Are you looking for inspiration to make your upcoming event or festival a culinary sensation? If yes, then you're in just the right place! With our handpicked selection of diverse and tantalizing food vendor ideas, your attendees will be in for a treat.
Food is a vital aspect of any successful event or festival, and finding the perfect food vendors can elevate the entire experience. Whether you're organizing a music festival, street fair, or a corporate gathering, our curated list of food vendor ideas for events and festivals has something to suit every occasion and taste.
From savory street tacos to mouthwatering desserts, we've gathered a range of innovative concepts and international flavors to ensure your attendees are thoroughly satisfied.
Prepare to explore an array of delicious foods and delicacies that will transform your event into a gastronomic paradise. Join us as we uncover the top food vendor ideas for events and festivals that are sure to leave a lasting impression on your guests.
List of the Best Food Vendor Ideas for Events and Festivals
Here is a comprehensive list of foods and drinks that can be sold at your next event or festival:
Hot dogs – Classic grilled sausages in a bun, topped with condiments and garnishes.
Hamburgers – Juicy beef patties served on a bun with various toppings.
Pizza slices – Thin or thick crust slices topped with cheese, sauce, and assorted toppings. These are undoubtedly one of the best selling foods at festivals.
French fries – Crispy deep-fried potato strips served with ketchup or other sauces.
Soft pretzels – Warm, twisted dough sprinkled with salt and served with mustard or cheese dip.
Nachos with cheese – Crispy tortilla chips smothered in melted cheese and optional toppings.
Chicken tenders – Tender and crispy breaded chicken strips, often served with dipping sauces.
Fried chicken – Crispy, seasoned chicken pieces with a delicious golden crust.
Fish and chips – Battered and deep-fried fish fillets accompanied by thick-cut potato fries.
Corn dogs – Hot dogs coated in cornmeal batter and deep-fried on a stick.
BBQ ribs – Slow-cooked, tender ribs coated in smoky barbecue sauce.
Grilled cheese sandwiches – Slices of cheese melted between buttered bread, grilled to perfection.
Tacos – Folded tortillas filled with seasoned meat, beans, cheese, and various toppings.
Burritos – Large tortillas wrapped around a hearty filling of meat, rice, beans, and cheese.
Quesadillas – Tortillas filled with melted cheese and often combined with meat, vegetables, or beans.
Sushi rolls – Japanese delicacies consisting of rice, seafood, and vegetables wrapped in seaweed.
Chicken wings – Deep-fried or grilled chicken wings coated in tangy or spicy sauces. Another festival favorite snack!
Mozzarella sticks – Breaded and fried sticks of gooey mozzarella cheese, perfect for dipping.
Onion rings – Thick slices of onions dipped in batter and deep-fried until crispy.
Popcorn – Popped corn kernels lightly seasoned with salt or other flavors like butter, cheese, caramel, etc. An all-time favorite snack at events and festivals.
Cotton candy – Spun sugar formed into a fluffy, colorful treat on a stick.
Funnel cakes – Deep-fried dough poured through a funnel, resulting in a crispy, sugary dessert.
Ice cream cones – Scoops of creamy ice cream nestled in a cone, often with various toppings.
Milkshakes – Blended mixture of ice cream, milk, and flavors, served in a glass with a straw.
Snow cones – Shaved ice topped with flavored syrups in a cone or cup.
Gelato – Smooth and creamy Italian-style ice cream with intense flavors and less air.
Churros – Fried pastry dough dusted with cinnamon sugar and served with dipping sauces.
Soft-serve yogurt – Creamy, light yogurt dispensed from a machine and often topped with fruit or toppings.
Fried Oreos – Deep-fried battered Oreo cookies, resulting in a warm and crispy dessert.
Mini donuts – Bite-sized fried doughnuts often coated in sugar or glaze.
Pretzel bites – Bite-sized soft pretzels served with mustard or cheese dip.
Chicken skewers – Grilled or roasted bite-sized chicken pieces on a skewer, often marinated for extra flavor. Another top-selling food item at festivals!
Fajitas – Sizzling grilled meat (usually beef or chicken) served with sautéed peppers and onions, tortillas, and toppings.
Loaded baked potatoes – Baked potatoes piled high with toppings like cheese, bacon, sour cream, and chives.
Fried calamari – Breaded and deep-fried rings of tender squid, served with marinara sauce or aioli.
Gyro – Thinly sliced seasoned meat (often lamb or chicken) wrapped in pita bread and topped with tzatziki sauce and vegetables.
Fried pickles – Crispy battered pickle slices, typically served with a tangy dipping sauce.
Bratwurst – German-style sausages made with pork, often served in a bun with mustard and sauerkraut.
Philly cheesesteak – Thinly sliced steak cooked with onions and topped with melted cheese, served in a roll.
Empanadas – Savory pastries filled with various ingredients like meat, cheese, vegetables, or fruit.
Crab cakes – Pan-fried patties made with crab meat, breadcrumbs, and seasonings, usually served with a sauce.
Chicken quesadilla – Grilled tortilla filled with chicken, cheese, and often peppers, onions, and spices.
Gourmet grilled cheese – Artisan bread with a blend of gourmet cheeses and additional ingredients, grilled to perfection.
Falafel – Deep-fried balls or patties made from ground chickpeas or fava beans, often served in a pita with tahini sauce.
Crepes – Thin pancakes filled with sweet or savory ingredients like Nutella, fruit, cheese, or ham.
Tamales – Masa dough filled with various fillings like meat, cheese, or vegetables, wrapped in corn husks and steamed.
Cakes – Scrumptious desserts available in various flavors, sizes, and designs, often accompanied by delectable frostings and decorations.
Pancakes – Fluffy breakfast delights served plain or with toppings like syrup, fresh fruits, whipped cream, or even savory options like bacon or cheese.
Fresh fruit juices – Refreshing beverages made from a variety of ripe fruits, offering a natural burst of flavors.
Tea – Aromatic hot beverage with options like black, green, herbal, or fruity variations, perfect for a comforting and relaxing experience.
Coffee – Energizing brewed beverage available in various forms such as black, espresso, latte, or iced, offering a delightful dose of caffeine.
Chalupas – Crispy fried tortilla shells loaded with savory fillings like seasoned meat, beans, cheese, lettuce, and salsa, reminiscent of delicious Mexican street food.
Shawarma – Flavorful Middle Eastern wrap consisting of thinly sliced roasted meat, often chicken or lamb, accompanied by vegetables and flavorful sauces.
Lasagna – Layers of pasta, meat or vegetables, cheese, and sauce baked to perfection, resulting in a hearty and comforting Italian dish.
Cookies – Sweet baked treats available in various flavors and textures, including chocolate chip, oatmeal, and peanut butter, perfect for a quick snack or dessert.
Croissants – Buttery and flaky pastries that can be enjoyed plain or filled with chocolate, cheese, ham, or other delectable ingredients.
Fruit salads – Healthy and refreshing mixtures of assorted fresh fruits, sometimes accompanied by a drizzle of honey, yogurt, or a sprinkle of nuts.
Paella – Flavorful Spanish rice dish cooked with a variety of ingredients such as chicken, seafood, vegetables, and aromatic spices.
Soups – Warm and comforting bowls of liquid goodness, ranging from classics like chicken noodle and tomato soup to creamy bisques and chowders.
Calzone – Folded Italian pizza pockets filled with ingredients like cheese, meats, vegetables, and sauce, baked to a golden perfection.
Ramen Noodles – Japanese noodle soup dish with a flavorful broth, served with wheat noodles and various toppings like sliced pork, vegetables, and soft-boiled eggs.
Fried Rice – A delicious stir-fried dish made with cooked rice, mixed vegetables, eggs, and a choice of meat or tofu, seasoned with soy sauce and other spices. A music festival favorite!
Spaghetti – Long, thin pasta noodles served with a variety of sauces like marinara, bolognese, carbonara, or pesto, topped with grated cheese.
Garlic Bread – Toasted bread brushed with garlic-infused butter or oil, often served as a side dish or appetizer, adding a flavorful kick to any meal.
Puddings – Creamy and indulgent desserts available in flavors like chocolate, vanilla, butterscotch, or fruity variations, often served chilled.
Tart – Delicate pastry crust filled with sweet or savory ingredients like fruits, custard, chocolate, or vegetables, offering a delightful combination of flavors and textures.
Chicken Teriyaki – Grilled chicken glazed with a sweet and savory teriyaki sauce, served with rice or noodles.
Jerk chicken – Spicy and flavorful grilled or roasted chicken marinated in a Jamaican jerk seasoning blend.
Pulled pork sandwich – Slow-cooked, tender shredded pork piled on a bun and topped with barbecue sauce and coleslaw.
Loaded nachos – Tortilla chips loaded with melted cheese, seasoned ground beef, salsa, guacamole, sour cream, and more.
Shepherd's pie – Traditional British dish consisting of minced meat (usually lamb), topped with mashed potatoes and baked until golden and hearty.
Shaslyk – Skewered and grilled meat dish originating from Eastern Europe and Central Asia, often marinated in flavorful spices and served with grilled vegetables.
Crab chips – Crispy and savory potato chips flavored with the taste of succulent crab meat, offering a unique and delicious snack option.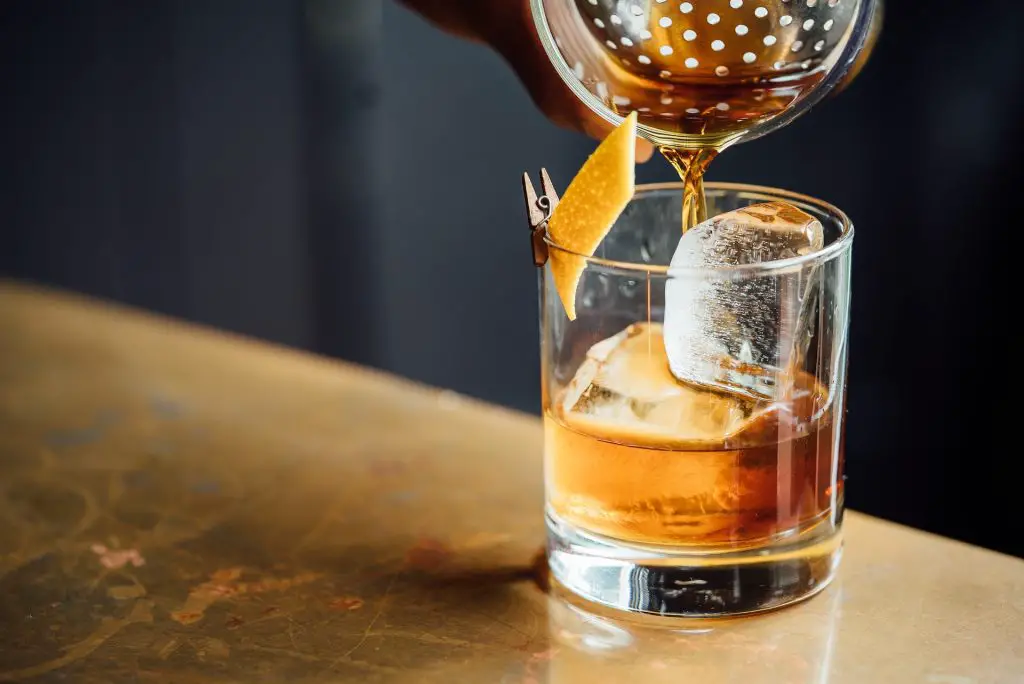 Cocktails – Mixed alcoholic beverages crafted from various spirits, liqueurs, and mixers, offering a refreshing and flavorful option to enjoy at events and music festivals, often garnished with fruits or herbs for an added touch of elegance.
Muffins – Individual-sized baked goods available in various flavors like blueberry, chocolate chip, or banana, perfect for breakfast or as a sweet treat throughout the day.
Chicken gyozas – Japanese dumplings filled with minced chicken and vegetables, steamed or pan-fried.
Baklava – Sweet pastry made with layers of phyllo dough, nuts, and honey syrup.
Crêpe Suzette – Thin pancakes flambéed in an orange-infused buttery sauce, often served with Grand Marnier.
Beignets – Deep-fried doughnuts dusted with powdered sugar, a New Orleans specialty.
Lobster roll – Chilled lobster meat tossed in a light dressing and served in a toasted split-top roll.
Poutine – French fries topped with cheese curds and smothered in gravy, a Canadian comfort food.
Samosas – Fried or baked pastries filled with savory ingredients like spiced potatoes, peas, and meat.
Corn on the cob – Grilled or boiled corn with butter, salt, and optional seasonings.
Banh mi – Vietnamese sandwich with a crusty baguette, filled with pickled vegetables, meat, and sauce.
Macaroni and cheese – Creamy macaroni pasta baked with a cheesy sauce, sometimes with additional toppings.
Beef kebabs – Skewered and grilled cubes of marinated beef, often served with vegetables.
Pad Thai – Stir-fried rice noodles with eggs, tofu, shrimp, peanuts, and a tangy tamarind sauce.
Ceviche – Raw seafood (often fish or shrimp) marinated in citrus juices and mixed with onions, peppers, and herbs.
Goulash – Hearty Hungarian stew made with tender meat, paprika, onions, and vegetables.
Egg rolls – Deep-fried rolls filled with a mixture of vegetables, meat, and sometimes noodles.
Sausage rolls – Flaky pastry wrapped around seasoned sausage meat, often eaten as a grab-and-go snack.
Hummus and pita – Creamy chickpea dip served with fresh pita bread or chips.
Bacon-wrapped dates – Sweet dates wrapped in crispy bacon, a delightful combination of flavors.
Greek salad – Fresh salad with tomatoes, cucumbers, onions, olives, and feta cheese, dressed with olive oil and lemon juice.
Spring rolls – Light and crispy fried or fresh rolls filled with vegetables, meat, and sometimes noodles.
Falafel wrap – Warm pita bread filled with falafel, hummus, tahini sauce, and fresh vegetables.
Jamaican patties – Spiced meat or vegetable-filled pastries with a flaky crust, often served as handheld snacks.
Croquettes – Breaded and fried rolls or balls filled with a mixture of mashed potatoes, meat, or vegetables.
Beef sliders – Miniature hamburgers with a juicy beef patty, served on small buns with various toppings.
Shrimp cocktail – Chilled cooked shrimp served with a tangy cocktail sauce for dipping.
Caprese skewers – Skewers with cherry tomatoes, fresh mozzarella, and basil leaves, drizzled with balsamic glaze.
Cajun fries – Seasoned fries with a spicy Cajun seasoning blend, perfect for flavor enthusiasts.
Fruit skewers – Skewered fresh fruit pieces, often served with a yogurt or chocolate dipping sauce.
Loaded potato skins – Halved baked potato shells filled with cheese, bacon, sour cream, and chives.
Coconut shrimp – Crispy breaded shrimp coated in shredded coconut, served with a sweet and tangy dipping sauce.
Gazpacho – Chilled tomato-based soup with fresh vegetables, herbs, and a hint of spice.
Stuffed mushrooms – Mushroom caps filled with a savory stuffing mixture, baked to perfection.
Cheese and charcuterie board – Assortment of fine cheeses, cured meats, olives, nuts, and bread or crackers.
Shrimp po' boy – Fried or grilled shrimp served on a French roll with lettuce, tomatoes, and remoulade sauce.
Crawfish boil – Boiled crawfish seasoned with spices, corn, potatoes, and sometimes sausage.
Fruit smoothies – Blended fruit beverages made with fresh or frozen fruit, yogurt, and juice.
Pita pockets – Pocket-like bread stuffed with a variety of fillings like falafel, chicken, or veggies.
Lemonade – Refreshing citrus drink made with freshly squeezed lemons, sugar, and water.
Chicken tikka – Grilled marinated chicken pieces served on skewers, often accompanied by chutney or yogurt sauce.
Bacon-wrapped jalapeños – Spicy jalapeño peppers stuffed with cream cheese, wrapped in bacon, and baked or grilled.
Fish tacos – Soft tortillas filled with grilled or fried fish, topped with slaw, salsa, and creamy sauce.
Cheesesteak egg rolls – Crispy fried egg rolls filled with cheesesteak ingredients, such as steak, cheese, and onions.
Caramel apples – Fresh apples coated in caramel and sometimes topped with nuts, chocolate, or sprinkles.
Tomato bruschetta – Toasted bread topped with diced tomatoes, garlic, basil, and drizzled with olive oil.
Ginger chicken stir-fry – Sautéed chicken with ginger, garlic, and vegetables, served over rice or noodles.
Teriyaki beef skewers – Skewered and grilled beef strips marinated in a sweet teriyaki sauce.
S'mores – Roasted marshmallows and chocolate sandwiched between graham crackers, a classic campfire treat.
Crab rangoon – Deep-fried wonton wrappers filled with a creamy mixture of crab meat and cream cheese.
Veggie spring rolls – Fresh or fried rolls filled with a medley of crisp vegetables and sometimes tofu or vermicelli noodles.
Mediterranean mezze platter – Assortment of Mediterranean appetizers like hummus, falafel, olives, and pita bread.
Chicken and waffles – Crispy fried chicken served on top of a fluffy waffle, drizzled with syrup.
Cannoli – Sweet Italian pastry tubes filled with a creamy ricotta cheese and often topped with powdered sugar.
Buttered cornbread – Moist and buttery cornbread, a popular side dish or snack.
Coconut curry – Flavorful curry dish made with coconut milk, spices, and vegetables or meat.
Cinnamon sugar pretzels – Soft pretzels sprinkled with a delightful blend of cinnamon and sugar.
Fried green tomatoes – Firm green tomatoes coated in cornmeal and fried until crispy, often served with a tangy dipping sauce.
Teriyaki salmon – Grilled or broiled salmon fillets glazed with a sweet teriyaki sauce.
Italian sausage and peppers – Grilled or sautéed Italian sausage with colorful bell peppers and onions, often served in a roll.
Pierogies – Dumplings filled with mashed potatoes, cheese, and sometimes meat, boiled or fried.
Chicken satay – Skewered and grilled chicken marinated in a flavorful sauce, often served with peanut sauce.
Pork belly bao – Steamed buns filled with tender braised pork belly, pickled vegetables, and sauces.
Lemon bars – Tangy and sweet dessert bars made with a buttery crust and lemon custard filling.
Maple bacon donuts – Soft and fluffy donuts topped with maple glaze and crispy bacon bits.
Fish and chips – Crispy battered and deep-fried fish fillets served with thick-cut fries.
Chicken Caesar salad – Fresh romaine lettuce tossed with grilled chicken, Caesar dressing, croutons, and Parmesan cheese.
Baja fish tacos – Soft tortillas filled with beer-battered fish, slaw, salsa, and creamy sauce, inspired by Baja California cuisine.
Related: Best Snacks, Food & Drinks to Sell at School
Best Places for Food Vendors to Sell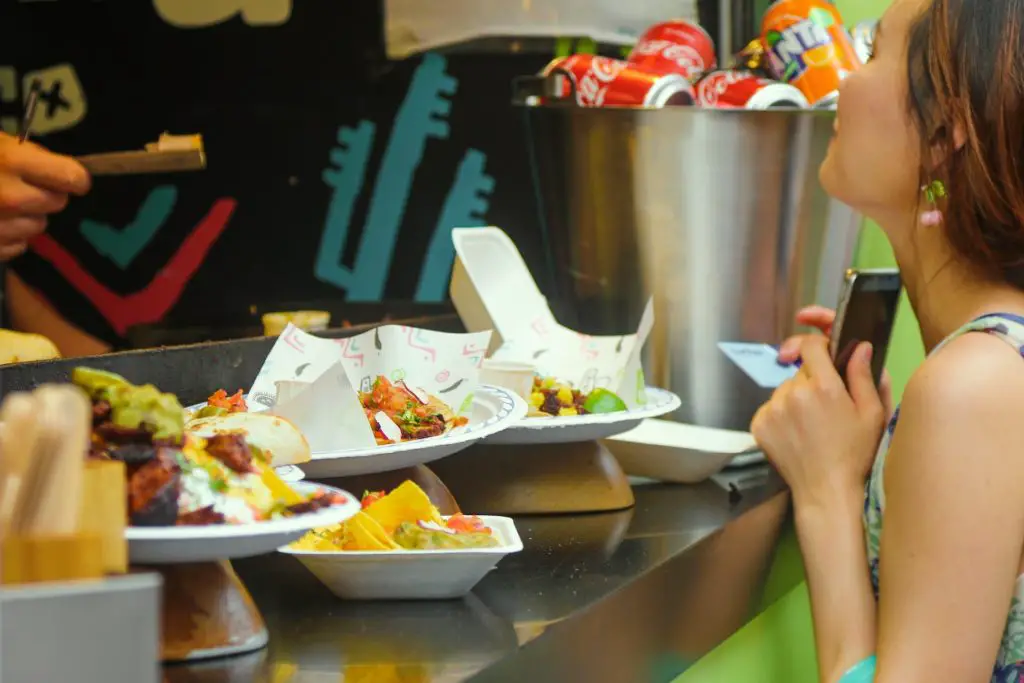 Festivals, concerts, and major sports events are incredibly lucrative for food sellers. Additionally, large trade fairs also present great opportunities for profit. Once your business has generated sufficient income, considering an investment in a food truck can significantly enhance mobility and expand your customer reach.
If you offer a product that people truly enjoy purchasing, and there isn't much competition in your area, it's worth carefully considering whether it makes financial sense to rent a dedicated space. Renting premises can be costly, but the potential for higher profits in such a setup is considerable, making it a worthwhile venture to explore.
Important Tips for Food Vendors
Find the most bustling location to set up your stand, ensuring maximum visibility and foot traffic.
Create eye-catching banners with bold lettering and place them strategically to attract attention and highlight your best offers and competitive prices.
Harness the power of social media to promote your business and engage with potential customers, leveraging effective marketing strategies to increase your reach.
Assemble a dedicated team that can handle different responsibilities, dividing tasks between salespersons and those responsible for ingredient preparation and food preparation.
Prepare an equipment checklist in advance to ensure you have all the necessary supplies packed and ready to go in your travel box.
Explore mobile payment options to provide convenient payment solutions for your customers.
Remember to bring essential items like zip ties, scissors, power strips, extension cords, and hoses to address any unforeseen needs.
Conclusion
When it comes to events and festivals, food and beverages are among the top-selling products that can generate good profits for your business.
To ensure success, it's crucial to consider the preferences of your customers, the attendees of the events or festivals in this case. By understanding their tastes and preferences, you can tailor your offerings to meet their needs.
Once you start your business, you'll gain valuable insights into which food items sell better than others. This knowledge will allow you to fine-tune your inventory and make informed decisions for your future events.
I wish you the best of luck in your business journey!
If you have any other food items or beverage suggestions that are popular in events and festivals, or if you're already running a successful food business and have tips to share, please feel free to leave a comment below. I would love to hear from you!