Are you looking for fun ways to make money by providing a good time to men online? In this article, I will list down and discuss some of the best and most legitimate websites where men give you money in exchange for your time.
If you're a woman and looking for apps and websites for females to make money then you're at the right place! There are many rich men who are lonely and seek companionship online from women in return for some great money.
There are loads of websites that will pay you to chat, sext, text, and flirt with guys online. Some of these sites offer really good money for these services where you get paid to text men.
Another advantage of these websites where guys give you money is that they offer you a lot of flexibility. You can work from anywhere and decide your own hours.
There are mainly 3 types of websites where men will offer to pay you money for your services –
Classified Websites – You can post ads on classified websites with all the details about your services and then men can choose to book your services accordingly. Conversely, you can also contact men who put out ads seeking these companionship services on such classified sites.
Auction Websites – On these sites, you get to set up an auction giving details of your services with a minimum base price and various men can bid on your profile. The highest bidder eventually gets to spend time with you and gets your companionship. This setup is also better paying and the users are more credible since their information is usually all validated.
Dating Sites – These are similar to the many dating apps that are popularly available today. You get to match with potential partners/men who are willing to pay according to your preferences like age, location, hobbies, etc.
Best Legitimate Websites Where Men Give You Money
1. Rent a Friend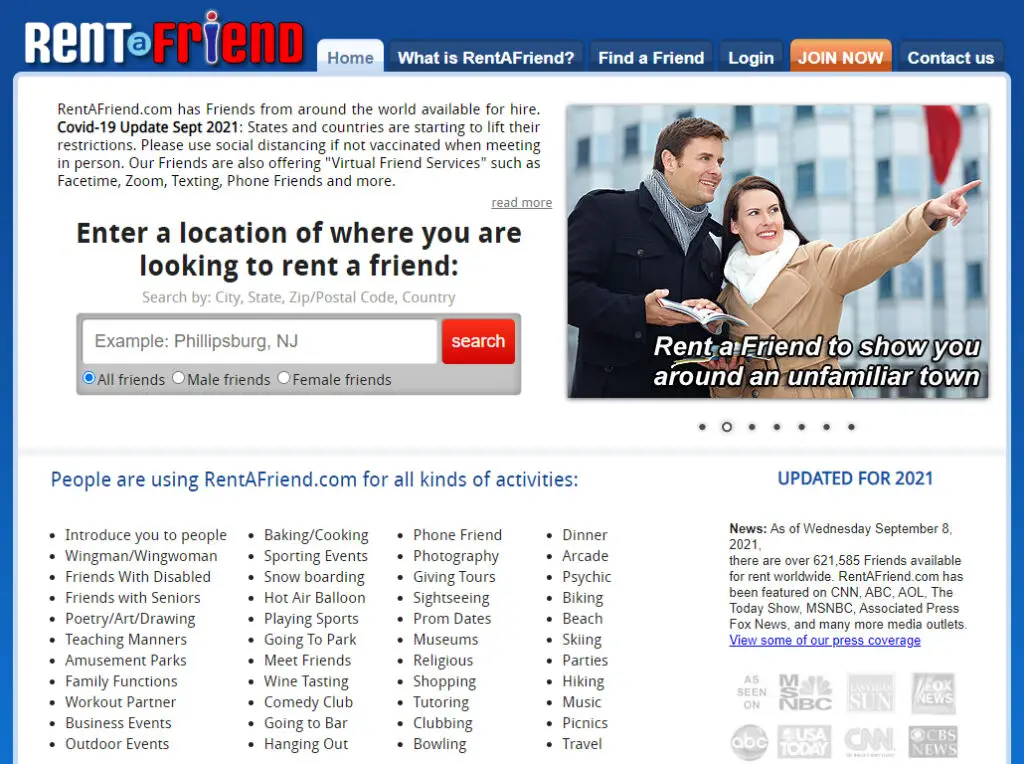 Rent a Friend is a great social network where you can make money by becoming friends and providing companionship to users of the website. This can be a perfect moneymaker for you if you have good social skills.
You will find tons of men who will be ready to pay you money in return for your friendship. And you can participate in many different activities that these users may want you to accompany them with.
As the name suggests, you can literally provide your friendship on rent, accompany people for the day or by the hour, listen to their problems by being a companion, and get paid for it.
2. Phrendly
Phrendly is another fantastic website where men will give you money in return for your friendship. If you like to make new friends online or chat with strangers then this site could be the right fit for you.
This app is over 10 years old and caters to users from the US and Canada. The users on this platform are known as phrends and it provides you with full anonymity as you chat and make connections on this site.
You also get to decide the level of intimate conversations that you may want to have with the other users. For instance, you can have casual innocent chats to full-blown sexual and flirty chats.
You can make anywhere between $40 to $70 per hour on this app.
3. WhatsYourPrice
This is a great website with a unique approach where the highest bidder gets to go on a date with you! WhatsYourPrice is a fun dating community where you get to put a price on the time you spend with a man.
Whether you're looking for a casual date or even if you're looking for something long-term with a special someone, WhatsYourPrice could be a fun, safe, and easy way to go for it. You will get to meet high-quality individuals on this website and go on first dates with them while making some good cash on the side.
If you consider yourself to be an attractive match for men looking to go out on dates while getting paid for it, then this could be a great fit for you.
4. TexKings
You will find a few different types of jobs on this site. To make money, your main objective on TexKings is to receive, process, and answer text messages from other users.
There are basically two ways that you can do this – by either becoming a text chat operator (texting customers) or becoming a phone operator (talking to customers). The main goal of this is to arouse sensual feelings in their customers while talking to or texting them.
You are not required to have any special college degree or expertise to find yourself a job on this website. It gives you the flexibility to work from home at your own convenience and time.
According to this website, you can make anywhere between $15 to $24 per hour for answering questions and talking to men.
5. FundMySugarBaby (FMSB)
If you've been looking for websites where guys will give you money, then FundMySugarBaby (or FMSB for short) will be a great option for you.
FMSB is a dating site where you can find men to date without having to face any issues of commitment and get paid for it. These type of wealthy men are sometimes also known as sugar daddies. The site provides you with the opportunity to go out with as many men as you like without them expecting any serious commitment from you in return.
Men are often looking for casual sexual encounters and fake girlfriends on hire who they can go out with without having any strings attached. This can provide for a very rewarding experience if you naturally like to flirt, chat, or sext with men.
This is also quite a safe and secure platform where all the users are verified. All you have to do is to find the perfect match in a man who fulfills your criteria and then get paid to chat, call, or text with him.
6. Dream Lover
Dream Lover is another really nice site that pays its users for flirting and chatting with others. This website prefers its users more as male and female models rather than as adult chat hosts.
If you're a little more adventurous, you can try this website out if you're over the age of 18. They accept memberships from all across the world.
As a model, you are encouraged to share photos and videos with other users but it is not a compulsion. You can also host your own webcam videos to earn extra money.
You still have control over what you share which makes you your own boss like the other platforms. Work according to your own schedule and as per your own convenience of time and space.
7. Flirtbucks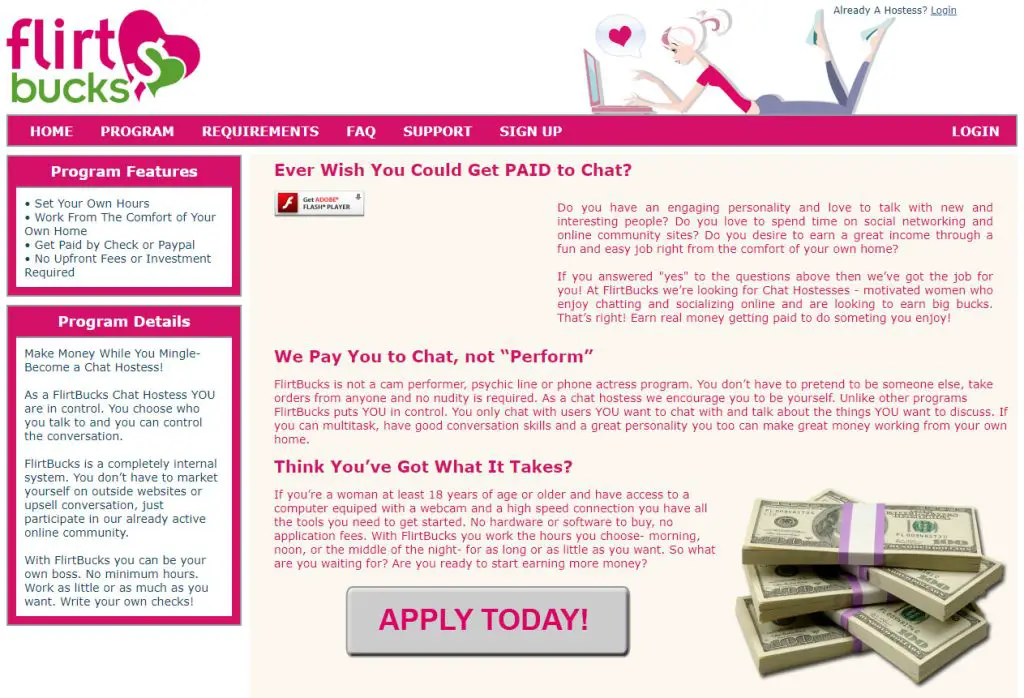 Flirtbucks is a great platform where guys will give you money for flirting and chatting with them online. Keep in mind, the chats on this site can get a little adult in nature. And still, according to the website, lots of women earn over $200,000 a year on this platform by just talking to men.
While flirting, you are expected to act playfully and romantically with men via calls, texts, videos, and other methods. If you're a woman of least 18 years of age or older and have a webcam and high-speed Internet then you already have the minimum requirements to join this site and start earning money.
Text chatting will pay you around $0.10 per minute whereas video chats will pay you about $0.12 per minute. This amount is subject to rise as you spend more time as a user on the website.
And if you are good at multitasking then it can be a bonus as you can cater to many clients at the same time, which in turn will increase your earnings. Having a lively outgoing personality also helps.
8. Seeking
Seeking.com provides another fantastic platform for people to get paid for providing a vast range of services that can optionally also be a little adult in nature. This does not mean that you can't have nonsexual relationships on this site.
Users of this website are also verified with background checks and they are usually wealthy men looking for female companionship. You can find a host of different types of people like old men and lonely men who are ready to send you money for your services.
You can explicitly mention the kind of services you are comfortable providing. Lots of users on this platform are making great money offering companionship to men.
Just like the other websites mentioned here, you get to set your own terms.
Related: Pros and Cons of Selling Feet Pics (20 Things to Consider)
9. Chat Operator Jobs
Chat Operator Jobs provides well-spoken live chat operators to chat with men. You have to send out typed chat messages on their network of websites as per your convenience of working as all hours and days are available.
You can make anywhere between $0.13 to $0.19 for every message you answer on your phone, tablet, or PC. You have the liberty to work full-time or part-time according to your availability.
The only difference and requirement on this site is that you need to be a minimum of 23 years of age to be able to apply as a chat operator on this site.
Payments are given out weekly to your PayPal account. You are just required to be open-minded due to the adult nature of the network of websites that they operate.
10. Rent a Date
Rent a Date is one of the most elite dating services where lonely men seek good-looking women to accompany them to social events, functions, parties, fundraisers, and other sorts of activities (some of which can be sexual in nature).
This is a place where you can quite literally rent a date and the prices for this service start from $125 an hour.
You get to choose the men who want to hire you as a date by their looks, interests, hobbies, age, etc. This gives you full freedom in choosing your companion and you can communicate with them before deciding if you want to take up a job. You also get to choose the day and time as per your convenience.
11. Chatrecruit
Chatrecruit is an excellent online chat network that recruits both male and female models and is based out of the United Kingdom. The website (and app) does not require you to have any prior experience and does not have any joining fees either.
You get to earn money by chatting to other people and are also given the flexibility of time and convenience. You can host private, group, or exclusive adult chats, and you will get compensated per minute.
You'll be given a bonus of $10 on your first payout and you can expect to earn at least $2 per minute or more depending on how much effort you put in.
This means you can earn around $120 for 60 minutes of work if you work hard enough.
Although the service is based out of the UK, they accept registrations from all across the world. Payments are done by direct bank transfer either weekly, fortnightly, or monthly.
12. MyGirlFund
If you want to make money talking to men online then MyGirlFund could be one of the best sites for you to make money by chatting, texting, and sexting with guys.
This is a social funding platform for women where you can have fun, make new friends, and have naughty online conversations, all while making some good money.
Sending each message will earn you one credit and you get to choose the amount of time you spend on this platform. You are also given the option to set your own price for offering video chat service to your clients. You can charge anywhere upwards of $5 before they get video access to you.
There is also an option of sending pictures of yourself to men and getting paid in return.
13. Lip Service
Lip Service is a website that provides you with a couple of job opportunities which include phone chat operator jobs and phone actress texting jobs. The basic concept is that you will get paid to talk to strangers in real-time.
This company has been in business since 1987 and is considered to be very reputable and trustworthy. This assures you of a secure platform with a lot of job opportunities depending on your efforts.
The amount of money you make on this website completely depends on how hard and how long you work. The more texts that you can send, the more money you will end up making.
14. Text121Chat
As the name suggests, this is another great platform where you get paid to text chat with strangers. According to the website, Text121Chat provides you with a number of work-at-home job opportunities which include customer service agents, phone sex operators, and text chat operators.
Some of the chats can be a bit adult in nature. This is where men will give you money to text chat and flirt with them. But there are also a lot of non-adult jobs available as well.
This website can prove to be a great money-making opportunity for women looking to make some side income from home. The site also boasts of a large customer base which means that there are always lots of jobs available.
15. TourBar
TourBar is an extremely popular dual-purpose website/app where you can find a travel companion or even a date. According to the website, you can meet local singles in your next travel destination who can show you their favorite places like beaches, local clubs, bars, restaurants, etc.
It's like a combination of a dating app and a local guide app. You can meet a lot of cool guys who are looking for a travel companion and get paid to provide your companionship and local expertise.
Related: 10+ Best Ways to Get Paid to Answer Questions Online
Tips to Follow on Websites Where Men Give You Money
Here are some tips that will ensure a smooth experience while handling relationships with men on websites where they pay you money –
Make things clear: It is always best to make your services clear to your potential clients beforehand so that the guys you're dealing with know exactly what to expect.
Be polite: Always try to be polite and friendly when communicating with men on these kinds of websites. At the end of the day, these are the guys who will be paying you for your services.
Don't take rejections personally: When you start working with these websites it might bother you when you get rejected by any prospective client. But you need to remember that you are working in a virtual world with unlimited options.
Be patient: Like any business, it might take you a while before you get a grasp of how things work on these websites. Be consistent, be persistent and you will start seeing results for your efforts with time.
Work on your appearance: Men who visit and spend on these websites are usually looking for an attractive companion. Working on your looks will attract more guys who will be ready to send you money.
FAQs
How much money can you make on websites where guys give you money?

The amount of money that you can make on websites where guys send you money will depend on a few factors that are listed below –
1. The platform (website/app) that you are using and the kind of users that visit that platform.
2. The amount of time and effort that you put in.
3. Your experience with using these kinds of websites and apps. The more you use them, the better skills and more clients you will build up over time.
4. The nature of the task that you are willing to do. For example, chats and video calls that are sexual in nature will earn you more money than simple texting.
5. Your clientele – Some guys simply have more money than others.
6. Your looks – The more effort that you put into making yourself look attractive, the more money men will be willing to spend on you.

How to get a guy to send you money?

Asking for money from men can be a bit awkward. I totally get that! But there are a few simple steps that you can take to make this whole process a little smoother. Here's what you need to do –
1. Be clear about the reason for you asking for the money. A simple explanation will make them understand your situation better.
2. Specify the exact amount that you need. Beating around the bush and being vague is not going to help. For example, tell them "my rent for this month is $800 and I'm falling short of $300".
3. Tell them by when exactly you need the money.
4. Suggest ways that they can send you this money. Give them options like they can send it to you via PayPal, Venmo, Cash App, etc.
5. Be very specific in letting them know when you will return this money. Men are more likely to give you money if you tell them when exactly you will repay them. This point is only for the times when you are borrowing money.

Can you get paid to talk to men online?

Yes, absolutely! There are lots of websites that provide a great platform for you to talk to men online and get paid for it. Websites like Rent a Date, Rent a Friend, Lip Service, Chat Operator Jobs, and many other popular apps and websites give you an opportunity where you can make money by providing services like text chatting, sexting, webcam chats, etc.
Final Thoughts
There are several opportunities in today's internet age where you can make money from websites where guys will pay you online for your services.
And as we've seen above, the range of services that you can offer to these men can vary from simple and fun text chatting all the way up to services that are more sexual in nature like video and webcam chatting.
The amount of money that you stand to make from these sites completely depends on the amount of time and effort you put into your work. With most of these websites, you also have the flexibility of working from wherever and whenever you want!
I hope this article has given you a good framework to work with and I wish you all the best!
Are there any other websites similar to the list above where men give you money for your services online? Do you have any other questions or thoughts? Let me know in the comments below, I'd love to hear from you!