So you've had an amazing idea for a boutique or maybe you already own one. In either case, selecting items to sell in a boutique can sometimes get a bit overwhelming. In this article, I will list down 60+ awesome things that you can sell in a boutique to make good money.
When it comes to boutiques, people usually tend to think of the most common items like clothes, shoes, hats, etc. Even though these are some of the highest-selling products in a boutique, there are a lot of other incredibly appealing products that you could be selling to earn excellent profits.
For a boutique to be unique and profitable, it should offer a wide range of products to its customers. Along with the big selection, the products should also be of high quality. This will help you to build a loyal customer base that keeps bringing in regular business.
A boutique can be in the form of a physical store or online. With the rapid rise in e-commerce sales in the past few years, online boutiques have become a very lucrative way of making money. The boutique item ideas mentioned below in this article can be sold in both a physical or online boutique store.
Apart from the products, there are a lot of other factors that will decide the success of your boutique, like –
Design of the boutique
Display of the items
Quality of service
Ambience & lighting
Background music
and more…
The products listed below are some of the best-selling and most popular items to be sold in boutiques. Although a lot of the ideas mentioned on this list are boutique items for ladies, there are some men-related and gender-neutral products as well.
So without any further delay, let's get started!
Best Things to Sell in a Boutique to Make Good Money
Clothes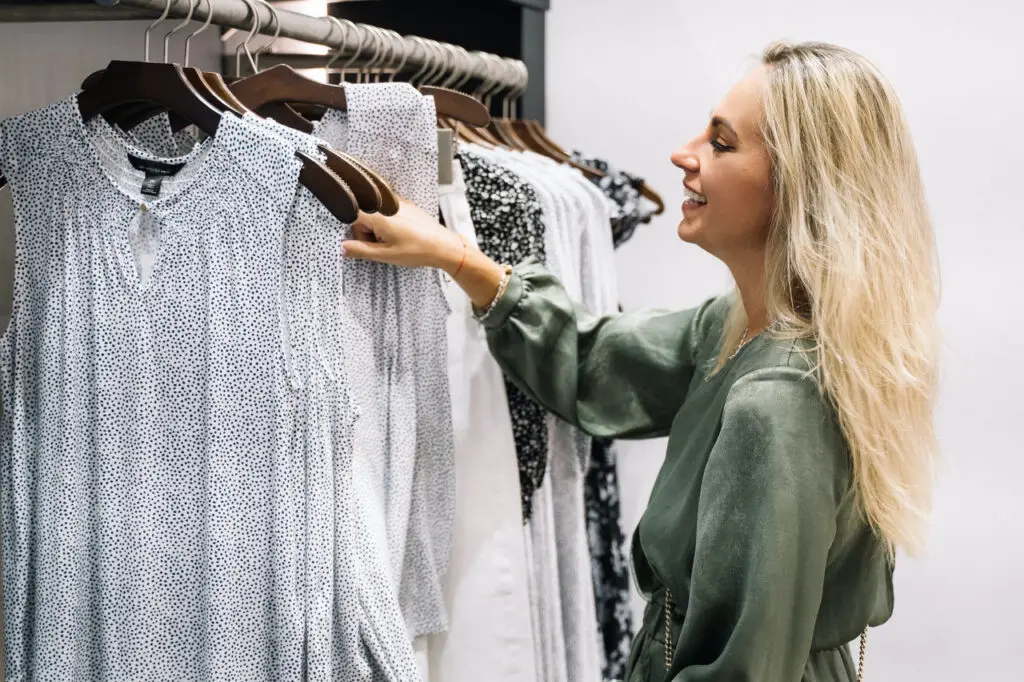 Undoubtedly the most popular and highest selling boutique items. There is a vast variety of clothing products that can be sold for really good margins at boutiques. Here are some of them –
T-Shirts – Arguably the fastest moving items in a boutique store. Try to have a wide collection of these.
Trousers – This can include all the different types like denims, chinos, formal trousers , etc.
Shirts – You can stock different types of shirts for both men and women.
Jackets
Sweaters – Jackets and sweaters can be seasonal products depending on where you are from. So keep that into consideration.
Coats
Dresses – High ticket items that can sell for a lot of profit. Try to have a good designer collection of women's dresses.
Hoodies – Highly popular amongst the younger generation of customers, hoodies can be big money earners!
Shorts
Leggings & Athleisure
Stockings
Tights
Suits – These will require some level of alteration to custom fit or can also require to be made-to-order. So selling suits will need you to hire an in-house tailor.
Dressing Gowns
Skirts
Pajamas
Nightdresses – High demand and fast moving items. You can have a collection of these for both adults and kids.
Turtlenecks
Swim Suits
Bras
Panties
Men's Undergarments like vests, boxers and more.
Scarves
Bandanas
Gloves
Socks – Lower ticket but fast selling items!
Footwear
Footwear can ideally be sold for a high margin and offer a wide selection. This means that you can buy a whole variety of them for cheap from wholesale dealers and then sell them at a much higher price point at your boutique.
Sneakers – We all know that sneakers have become a symbol of pop culture right now. Having a good collection of these can prove to be really profitable for your business.
Boots
Slippers / Flip Flops
Heels
Work/Formal Shoes
Accessories
There are lots of different types of accessories, both for men and women, that are high in demand and sell like hotcakes. Make sure to provide good quality products in this category and you will see those sales skyrocketing soon enough!
Handbags
Sunglasses
Jewelry
Handkerchiefs
Watches
Cufflinks
Bracelets / Bangles
Ties & Bow Ties
Belts
Backpacks
Fanny Packs / Belly Bags – These are highly in fashion right now and can bring in some real good profits.
Caps
Hats – Hats are loved by both men and women! You can stock either or both depending on the concept of your store.
Hairbands / Hair Clips / Hair Pins
Cosmetic/Make-Up Bags
Wallets
Purses
Related: 53 Best Things To Sell At School To Make Good Money
Cosmetics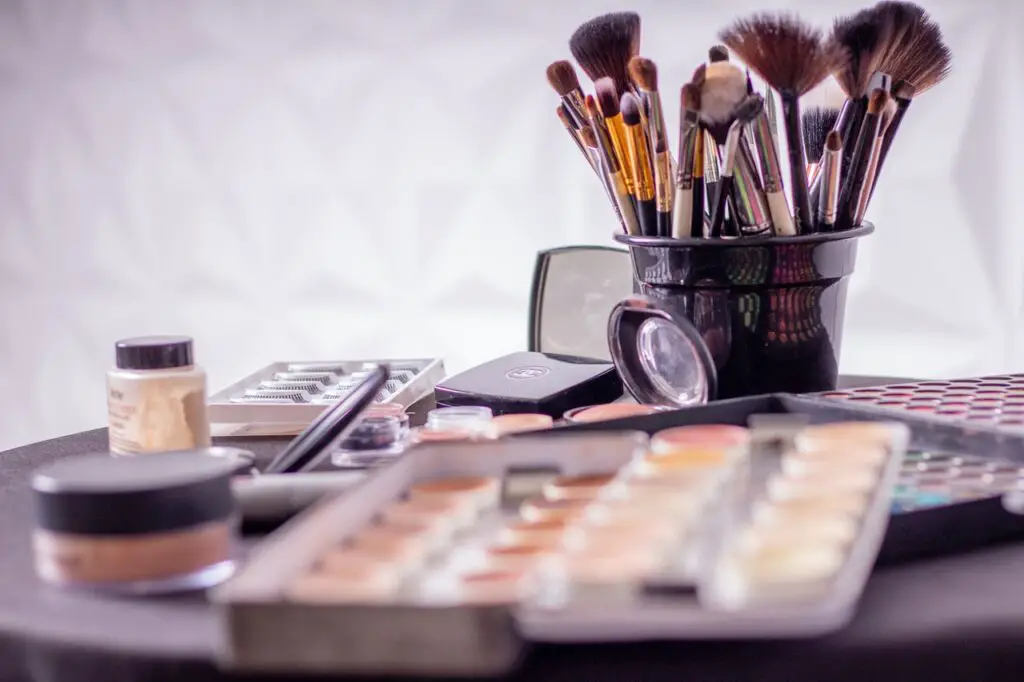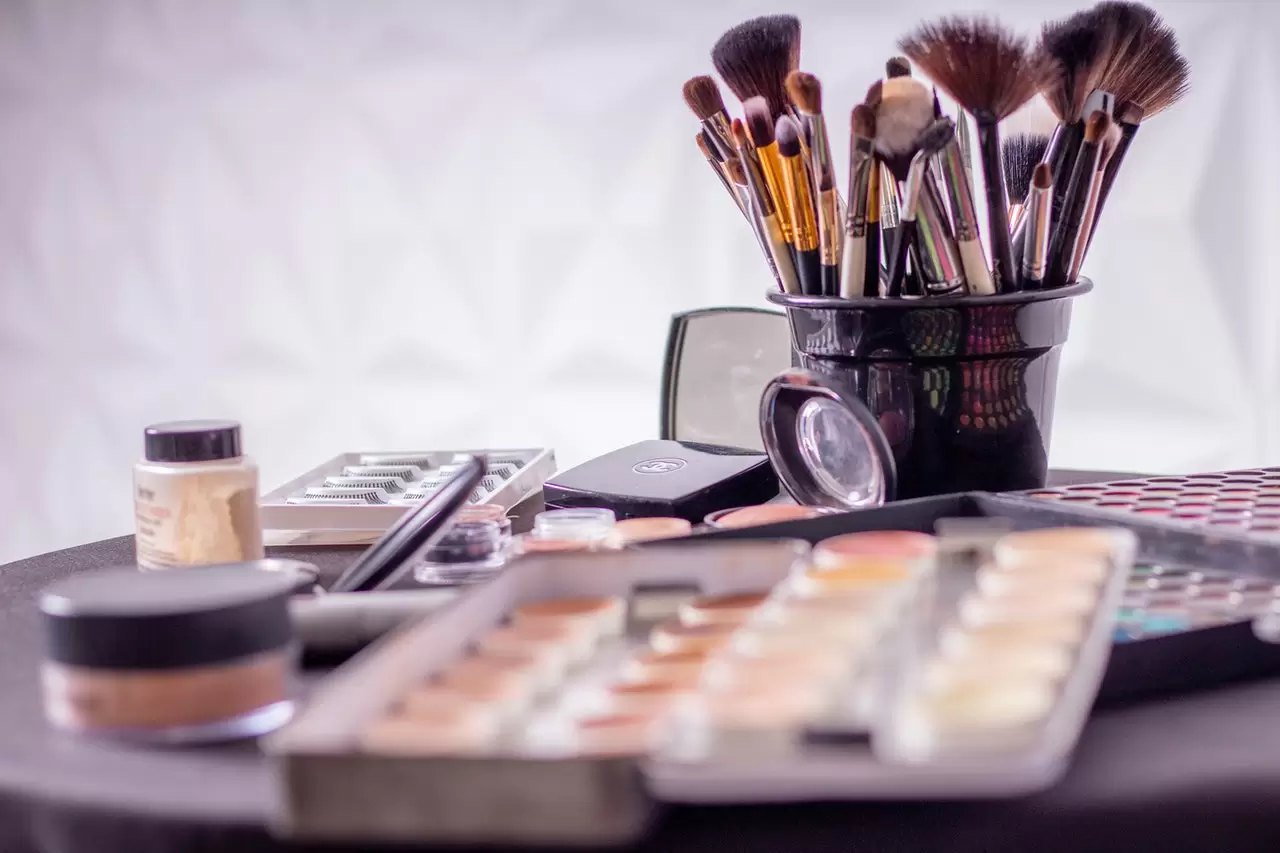 Mostly a category for women except maybe for the first item on the list below. Cosmetics are in high demand all season and can turn out to be some of the best-selling items in a boutique.
Perfumes / Colognes – People love buying perfumes and they can also be sold for high margins. Stock a good collection in both men's and women's perfumes.
Lipsticks
Nail Polish
Make-Up Brushes
Face Make-Up Products like Primers, Concealers, Foundations, etc.
Eye Make-Up Products like Mascaras, Eyeliners, Eye Shadows, etc.
Soaps / Shower Gels
Other Popular Boutique Items
Besides the regular categories of items mentioned above, there are a few other types of things that you can successfully sell in a boutique. These can include products like –
Home Linen like bedsheets, comforters, pillow covers, etc.
Towels
Rugs
Umbrellas
Home Perfumes / Diffusers
Candles – They come in all shapes and sizes! And also, scented candles are extremely popular.
Phone Cases
Paintings and other types of wall art.
Vases
Porcelain and other showpieces.
Wall Clocks
Artificial Plants, Flowers and Planters
Suppliers of Wholesale Boutique Items
One thing that is common for every boutique is that it requires a good supplier. Different boutiques have different strategies for sourcing goods.
You can work with specific brands on a franchise model or you can procure the items that you want to sell at a boutique from various other wholesale suppliers.
It might take a while before you get this right because finding the right reliable suppliers can turn out to be a bit of a trial and error.
You will also get better at finding winning products as you gain more experience. Some of the best places to look for wholesale boutique suppliers are:
FAQs
1. What is the difference between a shop and a boutique?
Boutiques are a specific type of shop in the sense that they are smaller shops that specialize in selling fashion-related things like clothes, jewelry, accessories, etc. A shop on the other hand can be of many different types & sizes and be selling a variety of different products.
Both can be established online or in a physical location.
2. How do boutique owners get their clothes?
As mentioned above, most boutique owners buy their stock in bulk from wholesale merchant distributors or even by going to physical wholesale shops, sometimes to different cities (and even countries), and purchasing the items.
Wholesale distributors usually get the clothes directly from the manufacturer and sell them to other retailers like boutique owners at a markup price.
3. How much do boutique owners make?
The answer to this question depends on a lot of factors like the size and scale of the boutique business, expenses, location, number of employees, etc. So the range is highly varied.
According to a report by PayScale, the average boutique owner makes around $51,000 per year. And it can range between $23,751 and $140,935+.
Please keep in mind though that these figures are from the year 2018 and the current figures might be slightly higher or lower.
Another thing to consider is that if you also sell your goods online, you could be making a lot more than if you were only selling in a physical store.
4. How much inventory do I need to start a boutique?
Again, as mentioned above, this can depend on a lot of different factors like how large your selling area is, the number of item categories, your total budget, etc.
A good rule to follow here would be to allocate a minimum of one-fourth of your total starting budget to purchasing inventory. I know of people who've started successful boutiques with as little as $1500 as their starting budgets.
Final Thoughts
And there we have it – a list of some of the best things you can sell in boutiques to make some serious profits. I really hope that you found this article useful and that it can help you come up with your own boutique ideas!
Have I missed any items that you've been selling successfully at your own boutiques? Or is there anything specific that you would want to know related to selling things in a boutique? Let me know in the comments below and I'd be happy to help! I wish you all the best!